GET THE LEGAL HELP YOU NEED
'Prosecutorial Discretion'
Existe una nueva política relativamente nueva denominada Prosecutorial Discretion o bien conocida como Discreción del Fiscal. Según un memorándum de política de fecha 17 de junio 2011, se hace del conocimiento a las autoridades pertinentes a enfocarse en la deportación de aquellos de mayor prioridad, tales como los criminales y personas que amenazan a la seguridad nacional o la seguridad pública. Las personas de menor prioridad se benefician de esta política de diversas maneras ya que las autoridades de inmigración pueden simplemente optar por no iniciar el proceso de deportación en contra de un individuo si es de baja prioridad. El memorándum también sugiere que la agencia pueda liberar a bajo fianza a aquellos que califiquen. ¿Quiénes, entonces, son los objetivos de baja prioridad? El memorándum sugiere que hay muchos factores a considerar; Los vínculos que tenga en Estados Unidos son importantes: puede ser una larga presencia en el país, una familia extensa aquí, y/o buena reputación. Hay que considerar también los factores humanitarios como enfermedad personal, enfermedad en la familia, o la vejez. Lo que pesa en contra de esos factores son los aspectos negativos, incluyendo un historial criminal del individuo, fraude, o graves infracciones. Si alguien desea hacer uso de la Discrecion del Fiscal entonces los funcionarios de ICE investigaran lo antes ya mencionado. Así que cualquier persona que enfrente una deportación debe ser proactiva y presentar pruebas de los factores favorables para su caso. Tome en cuenta que esto no/no implica un ajuste migratorio de residencia o ciudadanía ni le dará a nadie el derecho a un permiso de trabajo. Para mas información le sugerimos consultar a su abogado de inmigración.
Introduction To Fayad Law, P.C.
Have questions about your rights? Ready to discuss your
immigration case? Contact Fayad Law, P.C. now.
What Sets Fayad Law, P.C. Apart?
As a boutique law firm, we make sure that every single case we handle and client we represent receives our personal attention. We limit our caseload to ensure our clients feel truly supported at every moment, from start to finish. Your best interests will always be priority – and that is our driving priority. We know that any type of legal matter can be overwhelming. We approach every case with compassion and dedication from start to finish because we know how much may be at stake for you. We bring more than 20 years of combined legal experience to the table, which gives our clients the legal knowledge and insight needed to successfully navigate various legal processes.

Firsthand Experience
as Immigrants

English, Arabic, French,
Russian and Spanish

Proven Track
Record of Success

Personal, One-on-One
Attention​

You Stay Informed
at All Times
We Strive for Client
Satisfaction
Real Clients, Real Testimonials
Professional Associations
Have questions about your rights? Ready to discuss your immigration case? Contact Fayad Law, P.C. now.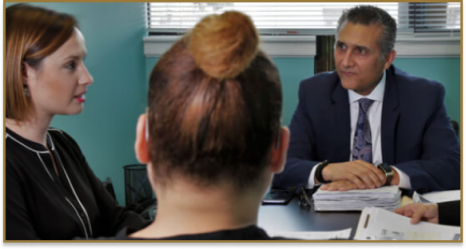 Sign up for the Fayad Law, P.C. Newsletter and get monthly news
straight to your inbox!