GET THE LEGAL HELP YOU NEED
El asilo está basado en el miedo que una persona indocumentada tiene de regresar a su país debido al haber sido víctima de persecución o que temer ser perseguido a causa de su raza, religión, nacionalidad, o pertenencia a determinado grupo social u opinión política. El temor puede estar basado, por ejemplo, en un acto de violencia, extorción, amenazas, o atentos de daños físicos o de muerte. Está basado también en el hecho de que la persona que ha sufrido un daño o amenaza no encuentra refugio o ayuda del gobierno de su país.
El asilo se debe solicitar dentro de un año de haber entrado a los E.E.U.U. Si es detenido en la frontera someterá su aplicación directamente a la corte de inmigración para que el juez decida su caso. Si no es detenido o si hace más de un año que entro a los E.E.U.U. someterá su aplicación a la oficina de inmigración y ciudadanía y tendrá una entrevista en persona para comprobar las alegaciones. Si entro los E.E.U.U. hace más de un año, puede aplicar para asilo y tendrá que demostrar un cambio de circunstancias en el país de origen que afecta su elegibilidad para asilo. O, puede demonstrar circunstancias extraordinarias relacionadas al retraso en su aplicación – como por ejemplo algún evento que le hizo imposible someter su aplicación a tiempo.
Usted puede ser elegible para la retención de la expulsión (Withholding of Removal), para parrar su deportación. La retención de expulsión no otorga ningún beneficio de inmigración – como una residencia o permiso de trabajo – pero si retiene la deportación. Este beneficio se puede solicitar en la misma aplicación para Asilo.
Introduction To Fayad Law, P.C.
Have questions about your rights? Ready to discuss your
immigration case? Contact Fayad Law, P.C. now.
What Sets Fayad Law, P.C. Apart?
As a boutique law firm, we make sure that every single case we handle and client we represent receives our personal attention. We limit our caseload to ensure our clients feel truly supported at every moment, from start to finish. Your best interests will always be priority – and that is our driving priority. We know that any type of legal matter can be overwhelming. We approach every case with compassion and dedication from start to finish because we know how much may be at stake for you. We bring more than 20 years of combined legal experience to the table, which gives our clients the legal knowledge and insight needed to successfully navigate various legal processes.

Firsthand Experience
as Immigrants

English, Arabic, French,
Russian and Spanish

Proven Track
Record of Success

Personal, One-on-One
Attention​

You Stay Informed
at All Times
We Strive for Client
Satisfaction
Real Clients, Real Testimonials
Professional Associations
Have questions about your rights? Ready to discuss your immigration case? Contact Fayad Law, P.C. now.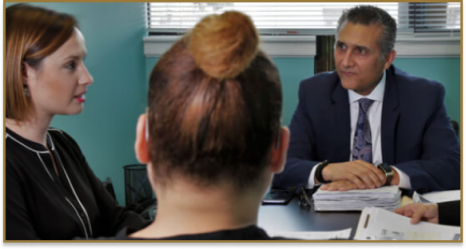 Sign up for the Fayad Law, P.C. Newsletter and get monthly news
straight to your inbox!