GET THE LEGAL HELP YOU NEED
Las personas con TPS (Estatus de protección temporal) que tienen una petición familiar aprobada tienen opciones para ajustar su estatus sin tener que cumplir con el castigo de 10 años fuera del país por haber entrado a los E.E.U.U. ilegalmente.
De acuerdo a una decisión de la mesa de apelaciones de inmigración, una persona que es inicialmente inadmisible – tal vez porque entro a los E.E.U.U. sin documentos y ha obtenido un permiso para re-entrar al país posiblemente puede ajustar su estatus en los E.E.U.U.
Toda persona que entra a los estados unidos sin documentos o que permanece en los E.E.U.U. después del vencimiento de su visa enfrenta un castigo de 3 o 10 años. Este castigo no comienza hasta que la persona sale del país. La excepción es cuando una persona obtiene un permiso de inmigración, "Advance Parole", para salir del país i re-ingresar aunque no tenga residencia o ciudadanía. Este es el caso de muchas personas con TPS de países centro americanos y el caribe entro otros. Al obtener su permiso para salir del país y re-ingresar sin problema, usted no ha activado el castigo de 10 años.
Entonces, las persona con TPS que ha salido del país y re-ingresado exitosamente es elegible para ajustar estatus sin tener que pedir una exención provisional. Si la persona no logra re-ingresar al país o no ha salido del país aunque tenga TPS deberá aplicar por una exención provisional antes de poder ajustar su estatus. Si la persona está casada con un ciudadano americano – no habrá espera para una visa. Si está casada/o con Residente Permanente si hay una espera. Se urge que consulte con un abogado antes de pedir un permiso para salir del país con TPS especialmente si tiene antecedentes criminales o ha tenido una orden de deportación anteriormente.
Introduction To Fayad Law, P.C.
Have questions about your rights? Ready to discuss your
immigration case? Contact Fayad Law, P.C. now.
What Sets Fayad Law, P.C. Apart?
As a boutique law firm, we make sure that every single case we handle and client we represent receives our personal attention. We limit our caseload to ensure our clients feel truly supported at every moment, from start to finish. Your best interests will always be priority – and that is our driving priority. We know that any type of legal matter can be overwhelming. We approach every case with compassion and dedication from start to finish because we know how much may be at stake for you. We bring more than 20 years of combined legal experience to the table, which gives our clients the legal knowledge and insight needed to successfully navigate various legal processes.

Firsthand Experience
as Immigrants

English, Arabic, French,
Russian and Spanish

Proven Track
Record of Success

Personal, One-on-One
Attention​

You Stay Informed
at All Times
We Strive for Client
Satisfaction
Real Clients, Real Testimonials
Professional Associations
Have questions about your rights? Ready to discuss your immigration case? Contact Fayad Law, P.C. now.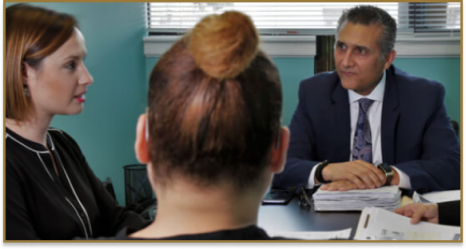 Sign up for the Fayad Law, P.C. Newsletter and get monthly news
straight to your inbox!