Stay of Removal - Nov 1212
GET THE LEGAL HELP YOU NEED
Que Pasa November Editorial
¿Hay alguna manera de parar o extender mi deportación si ya tengo una orden de deportación?
John Morton, el director de ICE (Immigration and Customs Enforcement), escribió un memorándum en junio del 2011 detallando una guía para discreción del fiscal. Para entender esta guía y sus implicaciones debemos primero entender cual es la responsabilidad de la agencia de ICE – el cual en pocas palabras es de en forzar las leyes de inmigración. ICE se encarga de buscar y detener a personas que no tienen estatus legal en el país y aquellas que han obtenido una orden de deportación en el pasado.
El director Morton instruye a ICE a utilizar su discreción a favor de personas de baja prioridad en su esfuerzo de detener a las personas con orden de deportación. Una persona con una orden de deportación no tiene derecho a una fianza migratoria – esta persona debe ser deportada al ser detenida por ICE. Baja el memorándum, ICE tiene la discreción de no detener a una persona, de no deportar a la persona, y de aceptar y aprobar aplicaciones para un "Stay" de deportación.
Las personas de baja prioridad que tienen una orden de deportación pueden aplicar para un "Stay" si han estado en el país por muchos años, no tienen record criminal, y tienen familiares ciudadanos americanos, entro varios otros requisitos. La persona no debe ser una amenaza pública o a la seguridad nacional. El "Stay" es especialmente para personas con casos de emergencia que necesitan quedarse en los estados unidos por una razón especifica. Por ejemplo, un "Stay" es apropiado para una persona que tiene una orden de deportación pero tiene un hijo ciudadano americano enfermo en el hospital.
Cuando ICE otorga un "Stay" de deportación lo que ocurre es una pausa en la deportación del individuo. Esto significa que mientras la deportación este en estatus de "Stay" el individuo esta protegido y no debe ser deportado por ICE. Un "Stay" se puede pedir por un año o menos.
Introduction To Fayad Law, P.C.
Have questions about your rights? Ready to discuss your
immigration case? Contact Fayad Law, P.C. now.
What Sets Fayad Law, P.C. Apart?
As a boutique law firm, we make sure that every single case we handle and client we represent receives our personal attention. We limit our caseload to ensure our clients feel truly supported at every moment, from start to finish. Your best interests will always be priority – and that is our driving priority. We know that any type of legal matter can be overwhelming. We approach every case with compassion and dedication from start to finish because we know how much may be at stake for you. We bring more than 20 years of combined legal experience to the table, which gives our clients the legal knowledge and insight needed to successfully navigate various legal processes.

Firsthand Experience
as Immigrants

English, Arabic, French,
Russian and Spanish

Proven Track
Record of Success

Personal, One-on-One
Attention​

You Stay Informed
at All Times
We Strive for Client
Satisfaction
Real Clients, Real Testimonials
Professional Associations
Have questions about your rights? Ready to discuss your immigration case? Contact Fayad Law, P.C. now.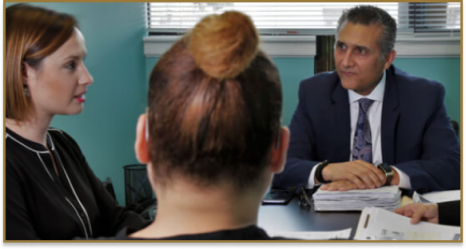 Sign up for the Fayad Law, P.C. Newsletter and get monthly news
straight to your inbox!