Immigration Appeals Attorneys
Serving Globally for Over 20 Years
If you have been subject to a decision by the immigration authorities and want to appeal the decision, contact Fayad Law, P.C. Our firm can assist you to appeal a decision made by the BIA (Board of Immigration Appeals) or DHS (Department of Homeland Security) or at the Fourth Circuit Federal Appeals Court. These are urgent matters that must be managed carefully, and with great skill, if you hope for a positive decision.
Our attorneys at Fayad Law, P.C. have more than 20 years of combined experience in all aspects of immigration law, including visas, deportation defense, asylum, green cards, and citizenship. If you face deportation, you have only a short period of time in which to file an appeal, and your case should be addressed with assistance from a highly experienced Virginia immigration lawyer.
Appeals to the BIA or DHS
We represent individuals who are appealing a decision by a USCIS officer, DHS officer, including fines, waivers, and permissible DHS bond decisions. These matters may require an appearance and oral argument before the BIA, and in such a case, you want the most experienced advocate on your side. A written brief or statement can be submitted, and this must be crafted with a great deal of skill and knowledge regarding the inner workings of the BIA and how they make decisions in an appeal.
Filing your appeal requires several submissions, including a Notice of Appeal form, which will require that you submit specific details about your case. How your case is presented could not be more important with regard to a decision regarding your appeal. A visa denial, deportation appeal or other appeal is often a life-changing issue. You cannot take chances with this urgent matter and should contact our firm immediately for assistance.
Contact our offices
to discuss your immigration appeal so we can advise you on how to proceed. There is limited time in which to file an appeal, and you should contact us without delay.
Introduction To Fayad Law, P.C.
Have questions about your rights? Ready to discuss your
immigration case? Contact Fayad Law, P.C. now.
What Sets Fayad Law, P.C. Apart?
As a boutique law firm, we make sure that every single case we handle and client we represent receives our personal attention. We limit our caseload to ensure our clients feel truly supported at every moment, from start to finish. Your best interests will always be priority – and that is our driving priority. We know that any type of legal matter can be overwhelming. We approach every case with compassion and dedication from start to finish because we know how much may be at stake for you. We bring more than 20 years of combined legal experience to the table, which gives our clients the legal knowledge and insight needed to successfully navigate various legal processes.

Firsthand Experience
as Immigrants

English, Arabic, French,
Russian and Spanish

Proven Track
Record of Success

Personal, One-on-One
Attention​

You Stay Informed
at All Times
We Strive for Client
Satisfaction
Real Clients, Real Testimonials
Professional Associations
Have questions about your rights? Ready to discuss your immigration case? Contact Fayad Law, P.C. now.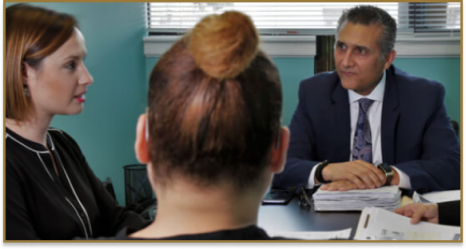 Sign up for the Fayad Law, P.C. Newsletter and get monthly news
straight to your inbox!