Family-Based Immigration Attorney
Bringing Your Loved Ones to the United States from Abroad
As challenging as it may have been for you to immigrate to the United States, you have now achieved your goal and have attained lawful permanent residence as a green card holder or perhaps you have even completed the full process of naturalization and citizenship. If you are like most people who manage to immigrate, you probably now want to assist your loved ones with joining you in this country so that you can share your lives together. The reunification of families has always been one of the top priorities of the U.S. immigration system, and there are several different types of immigrant visas available for this purpose.
What type of family immigration visa do you need?
When you contact our office to speak with a Virginia immigration attorney from our team, we take the time to answer all of your questions and help you select the most appropriate type of visa for meeting your needs. In the event that you are planning to marry a foreign national, for example, you may need a K-1 fiancé visa and perhaps also another type of K visa for his or her child. If you are already married, an alien spouse immigrant visa such as an IR-1 or F1 visa would be appropriate. The Immigration and Nationality Act provides an unlimited number of visas for the immediate relatives of U.S. citizens, in addition to 226,000 family-preference immigrant visas per year for certain close relatives of citizens and green cardholders. Let us review your case and begin working on your application today!
Helping Families Throughout Virginia and All Over the World
At Fayad Law, P.C., our Virginia immigration lawyers understand how important it is for you to help your family members navigate the complex process of immigration, and we want to help you achieve your goals of reuniting with your loved ones. With a team that includes attorneys who come from immigrant backgrounds, our firm's legal professionals have firsthand understanding of the challenges you now face.
We work tirelessly to achieve the best possible results for our client's cases and do so with a minimum of delay. Our firm serves clients throughout Virginia, including Richmond, Arlington, and Fairfax, and we can provide assistance to families and individuals throughout the world.
Contact us today to learn more about what we can do for you and your family!
Introduction To Fayad Law, P.C.
Have questions about your rights? Ready to discuss your
immigration case? Contact Fayad Law, P.C. now.
What Sets Fayad Law, P.C. Apart?
As a boutique law firm, we make sure that every single case we handle and client we represent receives our personal attention. We limit our caseload to ensure our clients feel truly supported at every moment, from start to finish. Your best interests will always be priority – and that is our driving priority. We know that any type of legal matter can be overwhelming. We approach every case with compassion and dedication from start to finish because we know how much may be at stake for you. We bring more than 20 years of combined legal experience to the table, which gives our clients the legal knowledge and insight needed to successfully navigate various legal processes.

Firsthand Experience
as Immigrants

English, Arabic, French,
Russian and Spanish

Proven Track
Record of Success

Personal, One-on-One
Attention​

You Stay Informed
at All Times
We Strive for Client
Satisfaction
Real Clients, Real Testimonials
Professional Associations
Have questions about your rights? Ready to discuss your immigration case? Contact Fayad Law, P.C. now.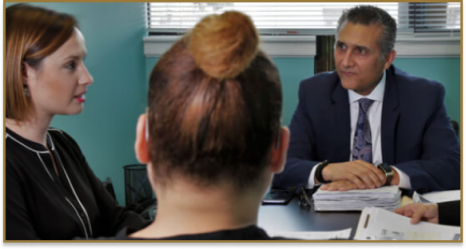 Sign up for the Fayad Law, P.C. Newsletter and get monthly news
straight to your inbox!