Employment-Based Immigration Lawyer
Visas for Foreign Nationals Coming to Work in the U.S.
The Immigration and Nationality Act (INA) places a lower priority on employment-based immigration than it does on family immigration. While the U.S. immigration system is generally favorable toward allowing loved ones to reunite, there is greater resistance to immigration that could deprive U.S. workers of jobs available in this country. Comparisons of immigrant visa data reflect this prioritization.
Whereas the INA provides up to 480,000 visas per year for the purposes of reuniting family members who have been separated by immigration to the United States, only slightly more than one-third of this allotment is allocated for employment-based immigration.
The 140,000 available employment visas are divided up into five categories:
Nearly 120,000 of the available employment immigration visas are reserved for the first three categories, with each one receiving 28.6 percent of the total number. The fourth category receives 7.1 percent, with the remainder going to the immigrant investor category.
In most cases of employment-based visa petitions, the employer who is sponsoring the immigrant applicant is the person who initiates the application process by sponsoring the applicant and obtaining a labor certification from the Department of Labor. Obtaining labor certification involves proving that the employment position cannot reasonably be filled by hiring from the local labor market, and it is a requirement that serves to protect U.S. workers from losing jobs to foreign nationals.
Once labor certification has been secured, the employer can then fill out a Form I-140, Immigrant Petition for Foreign Worker, which is then submitted to U.S. Citizenship and Immigration Services. After this has been approved, the prospective immigrant takes the next step by applying for a visa at the U.S. Embassy or Consulate in his or her home country. Employment visas are in such high demand that the allotted yearly quota is often exceeded. Spillover applications are each assigned a priority date, and the applicants then each given a visa in chronological order as the visas become available.
Speak with a Virginia Employment Immigration Lawyer
At Fayad Law, P.C., we understand how important it is for you to achieve a swift and efficient resolution to your immigration case, and whether you are an employer seeking to fill an important position or a worker hoping to come to the United States, our Virginia immigration lawyers are ready to help you. We can assist parties from around the world with the preparation of petitions and other paperwork, in addition to expediting cases and representing clients when meeting with immigration authorities. If you are in the U.S., you can meet with us at one of our offices in Fairfax or Richmond, Virginia.
Introduction To Fayad Law, P.C.
Have questions about your rights? Ready to discuss your
immigration case? Contact Fayad Law, P.C. now.
What Sets Fayad Law, P.C. Apart?
As a boutique law firm, we make sure that every single case we handle and client we represent receives our personal attention. We limit our caseload to ensure our clients feel truly supported at every moment, from start to finish. Your best interests will always be priority – and that is our driving priority. We know that any type of legal matter can be overwhelming. We approach every case with compassion and dedication from start to finish because we know how much may be at stake for you. We bring more than 20 years of combined legal experience to the table, which gives our clients the legal knowledge and insight needed to successfully navigate various legal processes.

Firsthand Experience
as Immigrants

English, Arabic, French,
Russian and Spanish

Proven Track
Record of Success

Personal, One-on-One
Attention​

You Stay Informed
at All Times
We Strive for Client
Satisfaction
Real Clients, Real Testimonials
Professional Associations
Have questions about your rights? Ready to discuss your immigration case? Contact Fayad Law, P.C. now.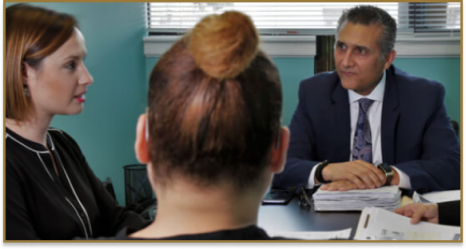 Sign up for the Fayad Law, P.C. Newsletter and get monthly news
straight to your inbox!