EB-5 Immigrant Investor Visa Lawyers
Seeking Investments in the U.S.? Turn to Trusted Attorneys in USA.
The Immigration and Nationality Act establishes five different categories of employment immigration visas, the last of which is reserved for foreign nationals who hope to immigrate to the United States for the purposes of investing in a business or other enterprise. Relatively few people from around the world are capable of satisfying the strict requirements for this type of visa; in fact, only 7.1 percent of the total number of employment-based visas was made available for immigrant investors. Far fewer than the 9,940 EB-5 visas that are available through U.S. Citizenship and Immigration Services are typically granted in any given year. According to statistics provided by the Department of Homeland Security, only 64 EB-5 visas were given out in 2003, while the highest number of visas granted in the past decade was 3,688.
Immigrant Investor Visa Eligibility
In order to qualify for an EB-5 visa, you must be planning to make a substantial investment of capital in a new enterprise that will create new jobs for U.S. workers. The investment must be a minimum of $1.8 million, though this figure may be as low as $900,000 if you are investing in a rural area or an area where unemployment rates are high. Furthermore, the investment must be expected to result in the creation of at least 10 new full-time positions within the next 2 years. There are, however, certain variations to these basic requirements. For example, rather than creating entirely new employment positions, the investment can be one that will save the jobs of workers whose employment would otherwise be in jeopardy as a result of the threatened failure of the business.
What qualifies as a "new enterprise?"
The definition of a "new enterprise" is far more generous than you might think: A business may have been founded as far in the past as November 29, 1990 to be eligible. Even if it is older than that, it may qualify if your investment will involve a restructuring or reorganization that causes an increase of 40 percent in net worth or the number of employees. If you believe that you may be eligible to apply for an EB-5 visa, contact Fayad Law, P.C. now for a consultation with a Virginia immigration attorney from our team. Our firm serves clients internationally, as well as throughout Virginia and North Carolina.
We can help you explore all of your options and help you pursue a course of action for achieving your immigration goals. Contact us today to learn more.
Introduction To Fayad Law, P.C.
Have questions about your rights? Ready to discuss your
immigration case? Contact Fayad Law, P.C. now.
What Sets Fayad Law, P.C. Apart?
As a boutique law firm, we make sure that every single case we handle and client we represent receives our personal attention. We limit our caseload to ensure our clients feel truly supported at every moment, from start to finish. Your best interests will always be priority – and that is our driving priority. We know that any type of legal matter can be overwhelming. We approach every case with compassion and dedication from start to finish because we know how much may be at stake for you. We bring more than 20 years of combined legal experience to the table, which gives our clients the legal knowledge and insight needed to successfully navigate various legal processes.

Firsthand Experience
as Immigrants

English, Arabic, French,
Russian and Spanish

Proven Track
Record of Success

Personal, One-on-One
Attention​

You Stay Informed
at All Times
We Strive for Client
Satisfaction
Real Clients, Real Testimonials
Professional Associations
Have questions about your rights? Ready to discuss your immigration case? Contact Fayad Law, P.C. now.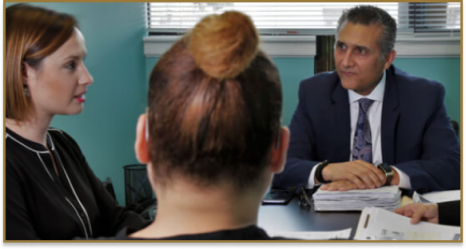 Sign up for the Fayad Law, P.C. Newsletter and get monthly news
straight to your inbox!