EB-1 Priority Worker Visa Attorney
Employment Immigration Visas for Priority Workers
Whereas most employment immigration visas require an individual worker to first obtain an approved Form I-140, Immigrant Petition for Foreign Worker, which is filed by an employer in the United States, the EB-1 priority worker category is different. Individuals applying for this category are permitted to file their own Form I-140because the U.S. government considers "priority workers" to be highly desirable and seeks to make it easier for them to enter this country for the purposes of immigrating and establishing themselves as permanent residents or citizens. Allowing for an expedited process is also meant to benefit U.S. employers who need these highly skilled or unique employees.
What is a priority worker?
In light of the fact that an EB-1 visa applicant is not required to first have a prospective employer file a Form I-140 on his or her behalf, it is not necessary for the individual to have an offer of employment in this country. It is expected that a priority worker will be able to find employment soon after arrival. EB-1 visa applications also do not require labor certification. A priority worker, according to U.S. immigration law, is someone who falls into one of three categories:
Persons with extraordinary ability in sciences, arts, education, business or athletics, such as those whose skills have elevated them to the level of receiving national or international acclaim
Outstanding professors and researchers who possess a minimum of three years of experience in their field, have achieved international recognition, and are planning to immigrate to this country for the purposes of pursuing tenure or a comparable research position (though an immigrant in this category must first have a Form I-140 filed by a sponsoring employer)
Multinational managers or executives who have spent at least one of the past three years in the employment of a U.S. company with an affiliate, parent, subsidiary or branch overseas, provided that the applicant was serving in an executive or managerial position during this time and is planning to come to this country to serve in a similar role
If you believe that you may be able to satisfy the criteria of one of the EB-1 subcategories, contact us now at Fayad Law, P.C. to discuss the matter and begin the application process. Our Virginia immigration lawyers have more than 20 years of combined experience and have offices in Richmond and Fairfax, Virginia. We also serve clients living abroad.
Introduction To Fayad Law, P.C.
Have questions about your rights? Ready to discuss your
immigration case? Contact Fayad Law, P.C. now.
What Sets Fayad Law, P.C. Apart?
As a boutique law firm, we make sure that every single case we handle and client we represent receives our personal attention. We limit our caseload to ensure our clients feel truly supported at every moment, from start to finish. Your best interests will always be priority – and that is our driving priority. We know that any type of legal matter can be overwhelming. We approach every case with compassion and dedication from start to finish because we know how much may be at stake for you. We bring more than 20 years of combined legal experience to the table, which gives our clients the legal knowledge and insight needed to successfully navigate various legal processes.

Firsthand Experience
as Immigrants

English, Arabic, French,
Russian and Spanish

Proven Track
Record of Success

Personal, One-on-One
Attention​

You Stay Informed
at All Times
We Strive for Client
Satisfaction
Real Clients, Real Testimonials
Professional Associations
Have questions about your rights? Ready to discuss your immigration case? Contact Fayad Law, P.C. now.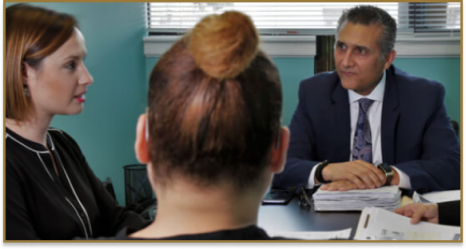 Sign up for the Fayad Law, P.C. Newsletter and get monthly news
straight to your inbox!