EB-3 Skilled or Professional Workers
Guiding Skilled or Professional Workers in USA
While 80,080 of the 140,000 employment-based immigration visas available on a yearly basis are reserved for each of the first two categories – groups which include persons with extraordinary or exceptional ability, outstanding researchers and professors, multinational managers and executives and professionals who hold advanced degrees – only half of that number are available to the category that has the most generous eligibility requirements. The EB-3 visa receives 28.6 percent of the yearly allocation of visas for employment immigration, and the categories of workers who may apply for this visa include:
Skilled workers whose employment positions demand at least two years of training or on-the-job experience and whose positions are neither seasonal nor temporary
Professionals whose positions require at least a bachelor's degree or its equivalent
Unskilled workers who are coming to fill employment positions that are not temporary or seasonal and that require less than two years of experience or training
Why You Need an Employment-Based Immigration Attorney
The fact that so few visas are made available to this category of employee reflects the manner in which United States immigration law places priorities on different types of potential immigrants. Nearly three times as many visas are available for the immediate relatives of permanent residents and certain relatives of citizens – in addition to unlimited visas for immediate family of U.S. citizens – in light of the fact that the government is less eager to allow foreign nationals to immigrate to this country for the purposes of filling an employment position that might otherwise be filled by an American citizen.
Representing Clients on the East Coast and Around the World
The few employment visas that are offered are far easier to obtain if you possess exceptional skills or education. If you are hoping to immigrate to the U.S. for the purposes of working here, or if you are an employer looking to fill a position by hiring from abroad, it is very much in your best interest to retain the services of an experienced Virginia immigration lawyer who can help you with every aspect of the process and work to expedite the processing of your application.
Contact us now at (703) 998-5390 so that we can review your situation and begin preparing your petition!
Introduction To Fayad Law, P.C.
Have questions about your rights? Ready to discuss your
immigration case? Contact Fayad Law, P.C. now.
What Sets Fayad Law, P.C. Apart?
As a boutique law firm, we make sure that every single case we handle and client we represent receives our personal attention. We limit our caseload to ensure our clients feel truly supported at every moment, from start to finish. Your best interests will always be priority – and that is our driving priority. We know that any type of legal matter can be overwhelming. We approach every case with compassion and dedication from start to finish because we know how much may be at stake for you. We bring more than 20 years of combined legal experience to the table, which gives our clients the legal knowledge and insight needed to successfully navigate various legal processes.

Firsthand Experience
as Immigrants

English, Arabic, French,
Russian and Spanish

Proven Track
Record of Success

Personal, One-on-One
Attention​

You Stay Informed
at All Times
We Strive for Client
Satisfaction
Real Clients, Real Testimonials
Professional Associations
Have questions about your rights? Ready to discuss your immigration case? Contact Fayad Law, P.C. now.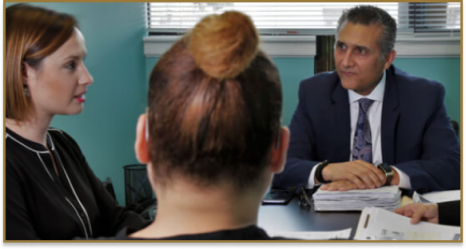 Sign up for the Fayad Law, P.C. Newsletter and get monthly news
straight to your inbox!