EB-4 Special Immigrant Visa Attorneys
EB-4 is the employment immigration visa category that is tied for the lowest number of visas allocated by the terms of the Immigration and Nationality Act. It also includes the longest list of subcategories. Whereas the other types of employment-based immigration visas generally include only two or three subcategories, the EB-4 category features no fewer than 19 types of workers who may apply.
Subcategories of the EB-4 visa are highly limited and unique and are not likely to include large numbers of applicants. The subcategories include, but are not limited to:
Broadcasters working in the U.S. in the service of the International Broadcasting Bureau of the Broadcasting Board of Governors
Certain former employees of the Panama Canal Company or the Canal Zone Government
Ministers of religion
Iraqi and Afghan interpreters and translators who worked directly with the U.S. Armed Forces for a minimum of one year
Certain retired international organization employees, as well as their unmarried children and surviving spouses
Apply for EB-4 With Assistance From a Virginia EB-4 Lawyer
As mentioned above, the number of EB-4 visas is highly limited, with only 7.1 percent of the total 140,000 employment visas being allocated for this category each year. Out of these 9,940 visas, certain categories are even more restricted, such as the Iraqi and Afghan translator visas which are limited to no more than 50 per year. It is not, however, required that the individual applying for this category obtain an approved Form I-140 sponsorship petition filed by a prospective employer.
If you are hoping to immigrate to the United States with an EB-4 visa, you can contact us at Fayad Law, P.C. for help. We have offices in Fairfax and Richmond, VA, and we provide our services to clients internationally. Our Virginia immigration lawyers have more than twenty years of combined legal experience, and we know how to get results when working with the immigration legal system.
Let us guide you throughout the process and advocate on your behalf with immigration authorities. Contact us today to learn more about how we can help!
Introduction To Fayad Law, P.C.
Have questions about your rights? Ready to discuss your
immigration case? Contact Fayad Law, P.C. now.
What Sets Fayad Law, P.C. Apart?
As a boutique law firm, we make sure that every single case we handle and client we represent receives our personal attention. We limit our caseload to ensure our clients feel truly supported at every moment, from start to finish. Your best interests will always be priority – and that is our driving priority. We know that any type of legal matter can be overwhelming. We approach every case with compassion and dedication from start to finish because we know how much may be at stake for you. We bring more than 20 years of combined legal experience to the table, which gives our clients the legal knowledge and insight needed to successfully navigate various legal processes.

Firsthand Experience
as Immigrants

English, Arabic, French,
Russian and Spanish

Proven Track
Record of Success

Personal, One-on-One
Attention​

You Stay Informed
at All Times
We Strive for Client
Satisfaction
Real Clients, Real Testimonials
Professional Associations
Have questions about your rights? Ready to discuss your immigration case? Contact Fayad Law, P.C. now.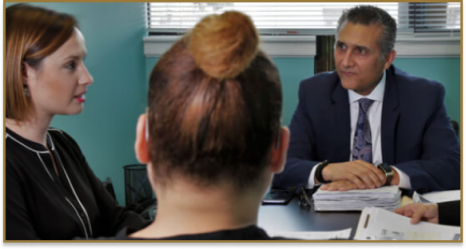 Sign up for the Fayad Law, P.C. Newsletter and get monthly news
straight to your inbox!