EB-2 Professional Employment Visa Attorney
Our Immigration Lawyers Can Determine Your Eligibility
Out of the total 140,000 visas that are allocated each year by the Immigration and Nationality Act (INA) for the purposes of employment immigration, 28.6 percent of them are reserved for the second of five categories, the EB-2 visa. These 40,040 immigration visas are intended for two subcategories of foreign nationals: professionals holding advanced degrees and persons of exceptional ability.
In some years, fewer than the total number available are granted – such as in 2006, when only 21,911 EB-2 visas were distributed – while in other years, the total number includes a backlog from the year before, as was the case in 2011 when the total number of EB-2 visas granted reached 66,831. In order to qualify for this type of employment visa, you must be able to supply evidence to prove that you fall into one of the following two subcategories:
Professional Holding an Advanced Degree:
For the purposes of this category, an "advanced degree" is one beyond the level of baccalaureate, such as a master's degree or doctorate held by a medical doctor or lawyer. It is not enough, however, to show your diploma: You must additionally be able to demonstrate that you have a minimum of five years of progressive experience in the profession.
Person with Exceptional Ability:
"Exceptional ability" may include skills in the fields of science, art, or business, but it must be at the level of being recognized as possessing expertise well in excess of what is routinely encountered in your chosen field.
Guidance With EB-2 Visa Applications
Before an individual may apply for an EB-2 visa, his or her prospective employer must act as a sponsor by filing an Immigrant Petition for Alien Worker, Form I-140, as well as obtaining labor certification to prove that the position cannot easily be filled by hiring from the local economy. These requirements can sometimes be dismissed, however, by petitioning for a National Interest Waiver based on evidence that it would serve the interests of the United States for the individual to be permitted to immigrate.
At Fayad Law, P.C., we explore all such options for helping our clients expedite their cases, and we encourage you to contact us now for a consultation with a Virginia immigration lawyer who can answer your questions and help you get the process started. We work with clients around the world and international businesses. We also serve clients in person at our Virginia offices in Fairfax and Richmond.
Introduction To Fayad Law, P.C.
Have questions about your rights? Ready to discuss your
immigration case? Contact Fayad Law, P.C. now.
What Sets Fayad Law, P.C. Apart?
As a boutique law firm, we make sure that every single case we handle and client we represent receives our personal attention. We limit our caseload to ensure our clients feel truly supported at every moment, from start to finish. Your best interests will always be priority – and that is our driving priority. We know that any type of legal matter can be overwhelming. We approach every case with compassion and dedication from start to finish because we know how much may be at stake for you. We bring more than 20 years of combined legal experience to the table, which gives our clients the legal knowledge and insight needed to successfully navigate various legal processes.

Firsthand Experience
as Immigrants

English, Arabic, French,
Russian and Spanish

Proven Track
Record of Success

Personal, One-on-One
Attention​

You Stay Informed
at All Times
We Strive for Client
Satisfaction
Real Clients, Real Testimonials
Professional Associations
Have questions about your rights? Ready to discuss your immigration case? Contact Fayad Law, P.C. now.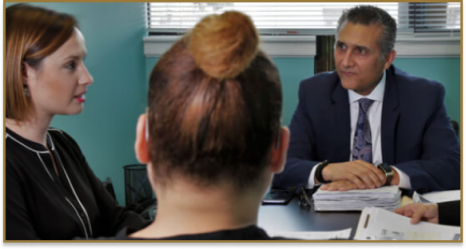 Sign up for the Fayad Law, P.C. Newsletter and get monthly news
straight to your inbox!