GET THE LEGAL HELP YOU NEED
Que es la Visa "U" y quien califica?
El estatus no inmígrate U (también conocido como Visa U) es otorgado a personas que han sido victimas de abuso físico o mental y están dispuestas a apoyar a las autoridades denunciado dicha actividad criminal ocurrida dentro de los Estados Unidos. La victima podrá incluir a miembros de su familia ya sea esposos, hijos, hermanas solteras y hermanos menores de 18 años, madre y padre. El trámite para solicitar la Visa U debe de ser por medio de la Forma Migratoria I-918 entre otros requisitos. El o la solicitante deberá haber sufrido un sustancial abuso físico o mental provocado por una actividad criminal, en una o varias de las siguientes categorías: rapto, tortura, incesto, violencia domestica, asalto sexual, abuso sexual, explotación sexual, hostigamiento, trato esclavo, secuestro, extorsión, asesinato, asalto criminal, manipulación de testigos, entre otras.
Las peticiones deberán incluir información de cómo las victimas podrán ayudar a los oficiales gubernamentales a aprender mas acerca del crimen incluyendo investigación y/o la prosecución del individuo que cometió el crimen. La victima además deberá de estar dispuesta a trabajar con las leyes locales.
Parte del Formulario I-918 deberá ser certificarlo por un agente o autoridad federal local o estatal, o por un juez estatal o federal a cargo de la investigación donde el solicitante es la victima. Tome en cuenta que sin esta certificación la solicitud de la Visa U no podrá tramitarse. Sin embargo, la certificación por si sola no garantiza la elegibilidad de todos los hechos a considerarse. La certificación individual deberá ser el eje para expedir la visa U y si en algún momento la victima no coopera con los esfuerzos de la ley, la certificación será retirada.
-Nash Fayad
Fayad Law, P.C.
Introduction To Fayad Law, P.C.
Have questions about your rights? Ready to discuss your
immigration case? Contact Fayad Law, P.C. now.
What Sets Fayad Law, P.C. Apart?
As a boutique law firm, we make sure that every single case we handle and client we represent receives our personal attention. We limit our caseload to ensure our clients feel truly supported at every moment, from start to finish. Your best interests will always be priority – and that is our driving priority. We know that any type of legal matter can be overwhelming. We approach every case with compassion and dedication from start to finish because we know how much may be at stake for you. We bring more than 20 years of combined legal experience to the table, which gives our clients the legal knowledge and insight needed to successfully navigate various legal processes.

Firsthand Experience
as Immigrants

English, Arabic, French,
Russian and Spanish

Proven Track
Record of Success

Personal, One-on-One
Attention​

You Stay Informed
at All Times
We Strive for Client
Satisfaction
Real Clients, Real Testimonials
Professional Associations
Have questions about your rights? Ready to discuss your immigration case? Contact Fayad Law, P.C. now.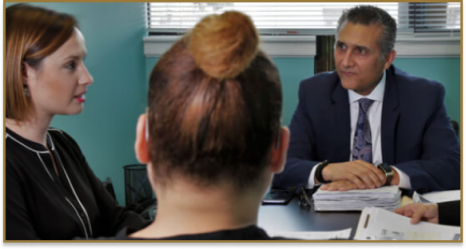 Sign up for the Fayad Law, P.C. Newsletter and get monthly news
straight to your inbox!