es factible una reforma migratoria
GET THE LEGAL HELP YOU NEED
¿Es factible una reforma migratoria este año o no?
Si es factible una reforma migratoria este año. Primero, el Presidente Obama tiene claramente el objetivo de una reforma migratoria comprensiva. Ya él ha anunciado su plan con puntos detallados para la nueva ley. También ha dicho que si el Congreso actúa y le entrega una propuesta él está dispuesto a firmar.
Segundo, los más de 12.2 millones votantes Hispanos que votaron en la elección este año votaron con propósito de apoyar una reforma migratoria. El mensaje de los votantes es claro – ya no es suficiente el DREAM Act, o DACA, o TPS. Se pide que el Presidente y el Congreso tomen acción para sacar de las sombras a las más de 11 millones de personas indocumentadas.
La última reforma ocurrió en el 1986 – y esta no proveo una manera factible de inmigrar a los E.E.U.U. legalmente – creciendo el número de personas que igual ingresaron al país sin documentos.
Tercero, ya no es un tema Demócrata o Republicano – es un tema en el cual los partidos se unen. El Senador electo Republicano de Arizona, Jeff Flake, en resumen, a dicho al radio público nacional (NPR por sus siglas en Ingles), a principios de este año, que el hecho de que estemos a cuatro años de una elección presidencial y dos años de una elección para el congreso, si va a pasar, debe pasar este año.
Una reforma migratoria no abre las fronteras a inmigración ilegal al resto del mundo. La nueva ley debe proteger la seguridad nacional, crear una manera legal de ingresar al país, y tratar de una manera humana de proveer una manera de documentar a las personas que ya están en el país. Más que nada – dar una oportunidad de legalización por empleo, familia, o estudio, a los millones de indocumentados en el país.
Entre todos los congresistas, el apoyo asía la reforma migratoria es dos a uno. Si, si es factible la reforma migratoria y demos mantenernos enfocados en esta meta.
Introduction To Fayad Law, P.C.
Have questions about your rights? Ready to discuss your
immigration case? Contact Fayad Law, P.C. now.
What Sets Fayad Law, P.C. Apart?
As a boutique law firm, we make sure that every single case we handle and client we represent receives our personal attention. We limit our caseload to ensure our clients feel truly supported at every moment, from start to finish. Your best interests will always be priority – and that is our driving priority. We know that any type of legal matter can be overwhelming. We approach every case with compassion and dedication from start to finish because we know how much may be at stake for you. We bring more than 20 years of combined legal experience to the table, which gives our clients the legal knowledge and insight needed to successfully navigate various legal processes.

Firsthand Experience
as Immigrants

English, Arabic, French,
Russian and Spanish

Proven Track
Record of Success

Personal, One-on-One
Attention​

You Stay Informed
at All Times
We Strive for Client
Satisfaction
Real Clients, Real Testimonials
Professional Associations
Have questions about your rights? Ready to discuss your immigration case? Contact Fayad Law, P.C. now.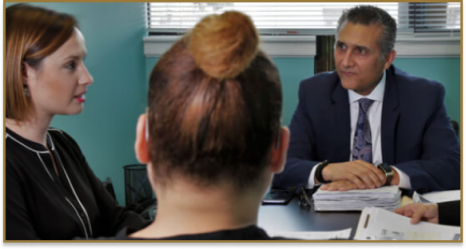 Sign up for the Fayad Law, P.C. Newsletter and get monthly news
straight to your inbox!