GET THE LEGAL HELP YOU NEED
¿Soy indocumentado y alguien hizo una petición migratoria por mi, acaso tengo que salir del país y esperar en mi lugar de origen por el ajuste migratorio?
Es probable que tenga que volver a su país de origen y solicitar una exención para poder recibir una visa, a menos que esté protegido bajo la Ley 245-i en la cual se haya sometido dicha petición antes del 30 de Abril de 2001 para beneficio de usted. El gobierno está en el proceso de cambiar dicha Ley, para que de esta manera el solicitante pueda esperar su proceso y ajuste migratorio mientras permanece en Los Estados Unidos.
¿Como puedo darle seguimiento a mi caso migratorio?
Si usted necesita darle seguimiento a su caso migratorio lo puede hacer de varias maneras. Si usted tenia un abogado que lo representara y esté ya no se ya no se encuentra trabajando para la misma firma; La firma tiene la obligación de proveerle y asegúrale con información y copia del archivo de su caso actual. Dependiendo de su estatus usted puede darle seguimiento ya sea por la web, llamando a inmigración, ICE y hasta recurriendo a la corte; estos le pueden ayudar con información relevante de su caso.
¿Soy ciudadano (a) Estadounidense puedo solicitar el ajuste migratorio de mis padres?
Para poder solicitar el ajuste migratorio de sus padres antes que nada debe ser mayor de 21 años de edad. De esta manera podrá hacer la petición por medio de la forma I-130 para que su padre y/o madre puedan vivir en los Estados Unidos como residentes permanentes. Si sus padres viven fuera de los Estados Unidos la forma para recibir la residencia permanente es por medio de un proceso consular (es decir por medio del consulado estadounidense mas cercano al lugar en donde radican sus padres en México). Si sus padres están con documentos legales en los Estados Unidos entonces estos serán tramitados directamente con USCIS (Servicios de Ciudadanía e Inmigración de los Estados Unidos). Le recomendamos contactar a un abogado de inmigración ya que depende cada caso el tiempo que tarde.
Que es Prosecutorial Discretion también conocida como Discreción del Fiscal?
Existe una nueva política relativamente nueva denominada Prosecutorial Discretion o bien conocida como Discreción del Fiscal. Según un memorándum de política de fecha 17 de junio 2011, se hace del conocimiento a las autoridades pertinentes a enfocarse en la deportación de aquellos de mayor prioridad tales como los criminales y personas que amenazan a la seguridad nacional o la seguridad pública. Tome en cuenta que esto no/no implica un ajuste migratorio de residencia o ciudadanía ni le dará a nadie el derecho a un permiso de trabajo. Para mas información le sugerimos consultar a su abogado de inmigración.
Introduction To Fayad Law, P.C.
Have questions about your rights? Ready to discuss your
immigration case? Contact Fayad Law, P.C. now.
What Sets Fayad Law, P.C. Apart?
As a boutique law firm, we make sure that every single case we handle and client we represent receives our personal attention. We limit our caseload to ensure our clients feel truly supported at every moment, from start to finish. Your best interests will always be priority – and that is our driving priority. We know that any type of legal matter can be overwhelming. We approach every case with compassion and dedication from start to finish because we know how much may be at stake for you. We bring more than 20 years of combined legal experience to the table, which gives our clients the legal knowledge and insight needed to successfully navigate various legal processes.

Firsthand Experience
as Immigrants

English, Arabic, French,
Russian and Spanish

Proven Track
Record of Success

Personal, One-on-One
Attention​

You Stay Informed
at All Times
We Strive for Client
Satisfaction
Real Clients, Real Testimonials
Professional Associations
Have questions about your rights? Ready to discuss your immigration case? Contact Fayad Law, P.C. now.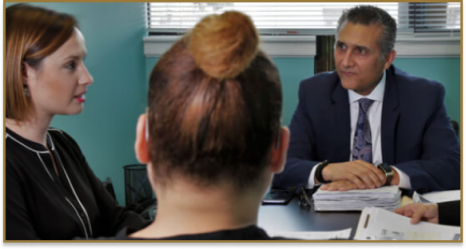 Sign up for the Fayad Law, P.C. Newsletter and get monthly news
straight to your inbox!