GET THE LEGAL HELP YOU NEED
Que Pasa Article- December 2012
Mientras se espera la Reforma: Exención Provisional
El Servicio de Inmigración y Ciudadanía de los Estados Unidos de América, USCIS, anuncio este año una propuesta que permitirá que las familias permanezcan unidas dentro de los Estados Unidos durante el tiempo de solicitud de su ajuste migratorio, esta propuesta es conocida como "Exención Provisional". La propuesta, permitiría a los esposos y/o hijos de Ciudadanos de los Estados Unidos el ajustar su estatus migratorio en los Estados Unidos sin tener que salir del país si cumplen con ciertos requisitos. De esta manera no tener que salir a su país de origen para solicitar un "perdón" ni esperar su ajuste migratorio. El solicitante deberá comprobar que su ausencia fuera de los Estados Unidos ocasionará un sufrimiento "cruel e inusual" a su familiar o familiares Estadounidenses. Una vez aprobada su " Exención Provisional" el solicitante será entonces "pre-aprobado" y podrá viajar a su país de origen a completar y finalizar el proceso consular y obtener su visa de inmigrante para poder regresar legalmente a vi vir en los Estados Unidos. La "Exención Provisional" por presencia ilegal aún no está disponible para solicitantes. El Servicio de Ciudadanía e Inmigración de los Estados Unidos (USCIS), planean publicar una notificación de propuesta de reglamentación en los próximos meses y considerará todos los comentarios recibidos como parte del proceso antes de publicar una notificación final. Para más información y/o saber si usted tiene un caso potencial consulte con nuestros abogados y comienza a preparar su documentación.
Introduction To Fayad Law, P.C.
Have questions about your rights? Ready to discuss your
immigration case? Contact Fayad Law, P.C. now.
What Sets Fayad Law, P.C. Apart?
As a boutique law firm, we make sure that every single case we handle and client we represent receives our personal attention. We limit our caseload to ensure our clients feel truly supported at every moment, from start to finish. Your best interests will always be priority – and that is our driving priority. We know that any type of legal matter can be overwhelming. We approach every case with compassion and dedication from start to finish because we know how much may be at stake for you. We bring more than 20 years of combined legal experience to the table, which gives our clients the legal knowledge and insight needed to successfully navigate various legal processes.

Firsthand Experience
as Immigrants

English, Arabic, French,
Russian and Spanish

Proven Track
Record of Success

Personal, One-on-One
Attention​

You Stay Informed
at All Times
We Strive for Client
Satisfaction
Real Clients, Real Testimonials
Professional Associations
Have questions about your rights? Ready to discuss your immigration case? Contact Fayad Law, P.C. now.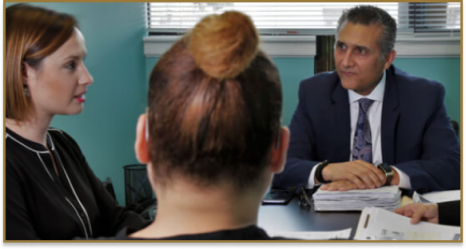 Sign up for the Fayad Law, P.C. Newsletter and get monthly news
straight to your inbox!