GET THE LEGAL HELP YOU NEED
Quien califica para la visa TN?
La visa TN es otorgada a profesionales temporales que son amparados bajo el Tratado de Libre Comercio de América del Norte (NAFTA). Este es un acuerdo entre Estados Unidos, México y Canadá. Para poder calificar para una visa TN; antes que nada la actividad intencionada debe de ser una profesión autorizada por el Servicio de Ciudadanía e Inmigración de los Estados Unidos (USCIS) y poseer las credencias necesarias para ser considerado un profesional. Como es el caso de una licenciatura o titulo los cuales son usualmente un requisito; a menos que la profesión permita otras cualidades alternas. Asícomo, una certificación laboral aprobada por el Departamento de Trabajo de los EUA (requisito para profesionales Mexicanos únicamente). Una vez que tenga todos los requisitos la compañía Estadounidense, esta debe de someter una solicitud de condición de empleo ante el Departamento de Trabajo de los EUA en su localidad. El individuo puede ser admitido en los EUA hasta un máximo periodo inicial de un año. Sin embargo, estos pueden solicitar extensiones para quedarse, año tras año. Los familiares de portadores de visa TN (cónyuge e hijos) se les pueden otorgar la visa TD como no-inmigrantes temporales. Sin embargo, estos nos están autorizados a trabajar en los Estados Unidos. Algunas de las profesiones consideradas para la visa TN son: contadores, arquitectos, analistas de sistemas de computación, economistas, ingenieros, diseñadores gráficos, gerentes de hoteles, diseñadores industriales, decoradores, abogados, bibliotecarios, consejeros de administrativos, dentistas, matemáticos, entre otros. Tome en cuenta que los profesionales mencionados son tan solo una mínima parte de la lista aprobada. SI usted cree calificar para la visa TN consulte a un abogado migratorio.
Have questions about your rights? Ready to discuss your
immigration case? Contact Fayad Law, P.C. now.
What Sets Fayad Law, P.C. Apart?
As a boutique law firm, we make sure that every single case we handle and client we represent receives our personal attention. We limit our caseload to ensure our clients feel truly supported at every moment, from start to finish. Your best interests will always be priority – and that is our driving priority. We know that any type of legal matter can be overwhelming. We approach every case with compassion and dedication from start to finish because we know how much may be at stake for you. We bring more than 20 years of combined legal experience to the table, which gives our clients the legal knowledge and insight needed to successfully navigate various legal processes.

Firsthand Experience
as Immigrants

English, Arabic, French,
Russian and Spanish

Proven Track
Record of Success

Personal, One-on-One
Attention​

You Stay Informed
at All Times
We Strive for Client
Satisfaction
Real Clients, Real Testimonials
Professional Associations
Have questions about your rights? Ready to discuss your immigration case? Contact Fayad Law, P.C. now.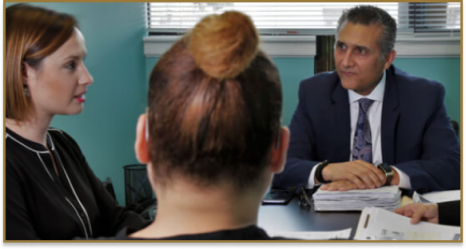 Sign up for the Fayad Law, P.C. Newsletter and get monthly news
straight to your inbox!