Cuando se trata de su destino o su futuro en los EE.UU., ¡Un servicio jurídico de calidad sí importa!
GET THE LEGAL HELP YOU NEED
Cuando se trata de su destino o su futuro en los EE.UU., ¡Un servicio jurídico de calidad sí importa!
11 de junio de 2014
Todos los días, tenemos que hacer frente a diferentes problemas y tomar decisiones. Qué ponerse, qué comer, qué profesión escoger, cual médico escoger y por supuesto, cuando se trata de tomar la decisión legal, que abogado contratar. A veces siento que nuestra vida es la toma de decisiones buenas y malas. Pero cuando se trata de servicios legales, en especial, los servicios legales de inmigración una mala decisión puede costarle su sueño americano.
No fue hace mucho tiempo (hace 16 años) cuando yo mismo tuve que tomar una decisión sobre qué abogado de inmigración debía elegir para mi propio caso. Hoy, después de un poco mas de 15 años, todavía recuerdo los días en que estaba sentado en el mismo lado de la mesa frente los abogados, que usted mi querido lector tiene que sentarte, y todavía recuerdo lo preocupado que estaba por todo mi proceso de inmigración.
Recientemente, le propuse a mi equipo de trabajo que evaluara la relación de abogado/cliente de nuestra firma y me diera su opinión sobre un servicio legal excepcional. Hoy, me gustaría compartir con ustedes mis queridos lectores, algunas de las cosas que mi personal y yo consideramos como buen servicio legal, y lo que un cliente potencial debe buscar para determinar si él o ella está en buenas manos.
En primer lugar – Reunión con el abogado y no con el asistente legal: Cuando usted va a ver a un abogado, usted quiere ver al abogado, hablar con el abogado y pedirle al abogado. Ya sea que le ofrezcan una primera consulta gratuita o de pagada, el asunto debe ser discutido con el abogado. En la reunión inicial con el abogado, el trabajo del paralegal o asistente legal no debe ir mas allá de la recopilación de información para ayudar al abogado a pre-evaluar su caso. Sin embargo, la evaluación de su caso, los consejos legales, las recomendaciones y todas las demás cuestiones relacionadas con su caso debe ser discutido inicialmente sólo con el abogado.
En segundo lugar – Explicación clara de sus opciones legales, el proceso legal y el resultado aproximado: Después de reunirse con el abogado y explicar su situación, usted espera tener noticias y una opinión del abogado sobre su situación. A veces, el abogado puede necesitar información adicional para determinar si le puede ayudar, pero si no tiene suficiente información acerca de su caso, debe explicarle en detalle y con palabras sencillas sus opciones. Si usted no tiene ninguna opción, el abogado debe ser honesto al respecto.
Después de determinar sus opciones, el abogado debe darle una descripción detallada sobre el proceso y la esperanza de éxito en su caso. Por favor, tenga en cuenta que a veces un caso de inmigración puede tomar diferentes caminos. Sin embargo, en cada etapa, su abogado debe reunirse con usted y hacer una re-evaluación. Lo mas importante es que usted siempre debe ser informado sobre su caso.
En tercer lugar – Honorarios: los honorarios de los abogados es uno de los mayores dilemas con los que tienen que lidiar clientes. En mi opinión, como cliente, no hay nada peor en un caso, que un acuerdo de honorarios abierto. Si se trata de una tarifa por hora o una tarifa fija, el abogado debe ser capaz de decirle a usted, en la mayoría de los casos, cuánto serán sus honorarios.
Cuarto – El acceso a su abogado durante todo el caso: Los casos de inmigración son diferentes y tienen diferentes expectativas de vida. Durante el caso, usted puede estar recibiendo diversas peticiones por parte del gobierno, su caso puede pasar de una etapa a otra. Se espera que usted tendrá acceso al abogado en cualquier momento. Aunque, muchas parte del caso son realizadas por asistentes legales y personal administrativo, sin embargo cuando se trata de consejos legales, debe hablar de su caso sólo con el abogado que está manejando su caso.
Los abogados a menudo están ocupados trabajando en varios casos. Usted no debe esperar que el abogado responda a su llamada inmediatamente (a menos que sea una emergencia), pero si espera volver a escuchar de su abogado en un plazo razonable (en 24 horas).
Los servicios jurídicos, incluidos los servicios de inmigración pueden afectar su vida y el destino de muchas maneras. ¿Está usted en buenas manos?
Introduction To Fayad Law, P.C.
Have questions about your rights? Ready to discuss your
immigration case? Contact Fayad Law, P.C. now.
What Sets Fayad Law, P.C. Apart?
As a boutique law firm, we make sure that every single case we handle and client we represent receives our personal attention. We limit our caseload to ensure our clients feel truly supported at every moment, from start to finish. Your best interests will always be priority – and that is our driving priority. We know that any type of legal matter can be overwhelming. We approach every case with compassion and dedication from start to finish because we know how much may be at stake for you. We bring more than 20 years of combined legal experience to the table, which gives our clients the legal knowledge and insight needed to successfully navigate various legal processes.

Firsthand Experience
as Immigrants

English, Arabic, French,
Russian and Spanish

Proven Track
Record of Success

Personal, One-on-One
Attention​

You Stay Informed
at All Times
We Strive for Client
Satisfaction
Real Clients, Real Testimonials
Professional Associations
Have questions about your rights? Ready to discuss your immigration case? Contact Fayad Law, P.C. now.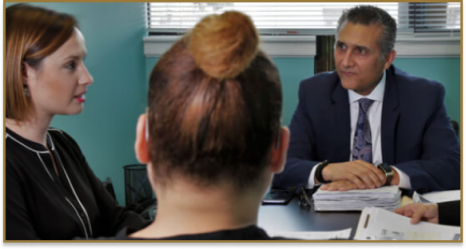 Sign up for the Fayad Law, P.C. Newsletter and get monthly news
straight to your inbox!