La derrota de Eric Cantor y la
GET THE LEGAL HELP YOU NEED
La derrota de Eric Cantor y la ¡"Lección de Inmigración"!
25 de junio de 2014
La derrota de Eric Cantor el número dos republicano en la jerarquía del partido fue percibido como el "terremoto de San Francisco" que viene de la nada. Pero realmente ¿vino de la nada? Fue inesperado y no es lógico?
Hubo y habrá un montón de análisis en los medios, entre la gente y los políticos acerca de la derrota de Eric Cantor. Sin embargo, y por el bien de este artículo, voy a analizar las lecciones de esta elección que sorprendió a muchos y alegro a otros. Que efectos tiene la derrota de Eric Cantor para propósitos del tema de inmigración y qué efecto pueda tener en la tan esperada reforma.
Primera lección: los candidatos anti-inmigrantes siguen pagando los precios más altos en las elecciones de Virginia con la pérdida de sus participaciones!
Por contradictorio que pueda sonar esta declaración (porque Bratt es un candidato más anti-inmigrante), uno puede fácilmente llegar a esta conclusión.
Al analizar el historial de Eric Cantor, no es necesario poner su política de lucha contra la inmigración bajo un microscopio para saber que por largo tiempo, ha sostenido un claro rechazo y su resistencia a cualquier reforma migratoria integral. En una carrera para ganarse los corazones de los republicanos en un distrito predominantemente republicano, dos candidatos antiinmigrantes lucharán para ganar los votos de los candidatos en temas de inmigración no relacionada.
Hoy, en este tipo de carreras, un candidato "del pueblo y para el pueblo" es más atractivo que un "Candidato cabildero de D.C. Sin embargo, si Cantor hubiera tenido una "política de inmigración flexible", habría movilizado a la "otra" base republicana (cada vez es más grande) que favorece la reforma migratoria.
Alguien puede preguntar entonces, ¿pero quienes son esos "otros" republicanos? y la respuesta es: ¡LOS LATINOS!
Segunda lección: Los datos demográficos están cambiando en todas partes incluso en VA pero el Partido Republicano en Virginia tiende a pasar por alto este hecho.
Incluso Eric Cantor, el número dos del más alto rango republicano. Muchos analistas creen, que no hizo suficientes esfuerzos para ganarse los corazones de los latinos en su distrito, en Virginia o en la nación en general.
Se puede decir que los latinos representan una pequeña parte de su distrito, predominantemente blanco. Esto es cierto. ¿Pero recientemente las elecciones no se han decidido por los votantes indecisos y por pocos votos?
Muchos creen que una combinación de puntos de vista sobre moderados sobre inmigración y más trabajo con las minorías (afroamericanos, asiáticos y latinos) podría haber cambiado el resultado para el "pez gordo" republicano.
Tercera Lección: Los candidatos republicanos pro-inmigrantes han ganado más elecciones primarias recientemente que sus opositores anti-inmigración.
En un informe publicado por "Latino Decisions", el autor publicó una estadística muy interesante en apoyo de esta teoría: "El mismo día que perdió Cantor, el senador republicano Lindsey Graham ganó fácilmente su primaria en la conservadora Carolina del Sur con el 57% de los votos. Su rival más cercano – que lo atacó por apoyar una reforma migratoria – ganó sólo el 15% del voto primario.
Como recordarán Graham fue uno de los que conformaron el grupo de los 8 que patrocinaron el proyecto de ley de reforma migratoria que aprobó el Senado de EE.UU.. "El autor del informe citado, dio otros ejemplos de cómo otros republicanos cobraron su apoyo a reforma migratoria ganado sus primarias.
"En el distrito 14 de Ohio, Matt Lynch hizo campaña sobre una estricta plataforma antiinmigrante y llamó a su rival David Joyce demasiado moderado en materia de inmigración. El candidato moderado Joyce derrotó fácilmente al candidato anti-inmigrante Lynch. En el Senado EE.UU. En las primarias de Georgia, el candidato anti-inmigrante, Paul Broun, terminó con menos del 10% del voto republicano, perdiendo con el empresario David Perdue.
En el distrito 10 de California, el republicano Jeff Denham, que ha co-patrocinado una legislación de reforma migratoria en la Cámara ni siquiera tuvo un rival republicano".
Estas son evidencias claras del impacto que tiene el tema de inmigración en las primarias republicanas.
A medida que la carrera por el congreso esta más cerca de su meta final, el tema de la inmigración será un factor de presión. Puede que no sea todavía "el" factor decisivo en el séptimo distrito, pero sin duda va a ser uno de ellos.
En el distrito 7th , la carrera en el otoño va a ser entre un candidato demócrata y uno republicano, con puntos de vista muy contrarios en cuanto a la inmigración.
¿Dónde está usted?
Introduction To Fayad Law, P.C.
Have questions about your rights? Ready to discuss your
immigration case? Contact Fayad Law, P.C. now.
What Sets Fayad Law, P.C. Apart?
As a boutique law firm, we make sure that every single case we handle and client we represent receives our personal attention. We limit our caseload to ensure our clients feel truly supported at every moment, from start to finish. Your best interests will always be priority – and that is our driving priority. We know that any type of legal matter can be overwhelming. We approach every case with compassion and dedication from start to finish because we know how much may be at stake for you. We bring more than 20 years of combined legal experience to the table, which gives our clients the legal knowledge and insight needed to successfully navigate various legal processes.

Firsthand Experience
as Immigrants

English, Arabic, French,
Russian and Spanish

Proven Track
Record of Success

Personal, One-on-One
Attention​

You Stay Informed
at All Times
We Strive for Client
Satisfaction
Real Clients, Real Testimonials
Ahora cuentan con un buen servicio y buena amabilidad, 👍
From start to finish Mr. Fayad and his team did an outstanding job, I had a complicated case but Fayad law did all that they said they would do, to ensure I would be sucessful in my quest to become a legal permanent resident. Today I am happy to say I am! . Thanks to the expert and caring staff. Greatly appreciated.
Thank you so much Oscar and Aida !
I really recommended Fayad law team!Mr.Aida did Amazing job with my case!I'm so lucky that i was one of your clients!😍thanks for you and for the team who was working on my case!!
mohammed A.
15:47 01 Sep 22
The indication I have been seeing in Fayed law actively work with client and realistic.
Gavi Yaneth H.
02:46 15 Jan 22
Very friendly staff and communicative!! If anyone is in need of immigration help, this is the place to go! They make the process simple, quick, and easy. Thank you Fayad Law!
To the point, great law office, friendlyThank u everyone
Nice place and friendly staff. Thank you Mrs. Marla for everything 🌺🌺
Fayad and everyone at his team have helped me and my family with our immigration issues/cases. I'm very impressed with their dedication and close attention to details. It's a firm that has great knowledge and great customer service. I highly recommend this firm!
Fayad law its a great firm very professional they made a great job With my case.
Stellar immigration firm. Had a very pleasant experience, had multiple cases handled by Fayad Law and they were responsive, knowledgeable and effective. Especially Mrs Dosmanova – highly recommend to work with this attorney, speaks multiple languages too
I'm very happy to work with Ms. Ektrena she helped me a lot through out my case, I would Thank her very much 🙂
Christian B.
06:14 29 Jan 20
We've been using Fayad law for years. They've successfully helped us obtain approval for an I-130 and are working on various other things on our immigration journey. They've also represented us on various traffic matters. We began working closely with Jonathan White a few years ago and he has always been refreshingly pleasant. I am greatfulmfor this practice and truly value the service we have been provided at Fayad Law- I cannot express the gratitude for the kindness that has been showed to my family.
Estamos muy agradecidos con la ayuda que el buffete nos ha ofrecido mi esposo fue detenido por ICE y fue procesada su deportacion de inmediato ..el llego a su pais de donde fue regresado a USA gracias a los abogados q detuvieron su deportacion…ellos lograron sacarlo con una fianza y estamos aqui Unidos en familia nuevamente …Gracias. Fayad Law por su apollo …vale la pena claro que si …🙏🙏🙏☺
I dealt with Ingy Girgis and she was beyond expectation in all matters , staff in the office are very helpful and cooperative. I realy recommend Fayad law office
Meilleur avocat très professionnel
Very knowledgeable and I would highly recommend his services.
Nice place kind and friendly staff
This review is being written after a phone consultation with Mr. Fayad. Mr. Fayad is a well-informed and caring person who tries his best to help his clients and lead them down the right path. His staff are understanding and polite, as they helped me with an issue concerning the timing of the consultation as well as followed-up after to ensure if I missed anything or needed any further help with my legal issue.Overall, I recommend Mr. Fayad for anyone who needs legal advice or help.
This review is specific for the front desk. The first face who greets you is Estaphania. She always has a smile and greets you warmly genuinely. She is attentive and seems like one who enjoys what she does.I can't rate the legal work yet because I just signed my contract with Mr. Fayyad and am hoping for the best.
The best one ever, great mindset, very clever
Nermine F.
14:17 12 Oct 18
We done my mother case with Mr. Fayad we want to thank everybody in the office they such of great team special johnsan he such a very good lawyer .. honest person thanks for his great job …Very helpful
Great Customer Service and knowledge about their business.
He is some of the best immigration LawyerOf Virginia.I'm so happy with the results.
They assisted my company with an H1-B visa for a key employee. Found the firm to be expert and responsive to our needs and concerns throughout the entire process.
The place to go if you have immigration issue
Professional Associations
Have questions about your rights? Ready to discuss your immigration case? Contact Fayad Law, P.C. now.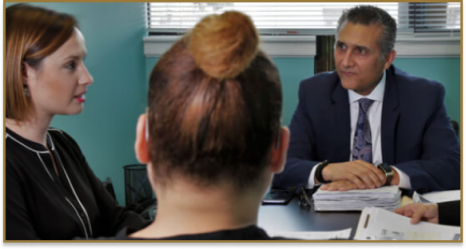 Sign up for the Fayad Law, P.C. Newsletter and get monthly news
straight to your inbox!