La derrota de Eric Cantor y la
GET THE LEGAL HELP YOU NEED
La derrota de Eric Cantor y la ¡"Lección de Inmigración"!
25 de junio de 2014
La derrota de Eric Cantor el número dos republicano en la jerarquía del partido fue percibido como el "terremoto de San Francisco" que viene de la nada. Pero realmente ¿vino de la nada? Fue inesperado y no es lógico?
Hubo y habrá un montón de análisis en los medios, entre la gente y los políticos acerca de la derrota de Eric Cantor. Sin embargo, y por el bien de este artículo, voy a analizar las lecciones de esta elección que sorprendió a muchos y alegro a otros. Que efectos tiene la derrota de Eric Cantor para propósitos del tema de inmigración y qué efecto pueda tener en la tan esperada reforma.
Primera lección: los candidatos anti-inmigrantes siguen pagando los precios más altos en las elecciones de Virginia con la pérdida de sus participaciones!
Por contradictorio que pueda sonar esta declaración (porque Bratt es un candidato más anti-inmigrante), uno puede fácilmente llegar a esta conclusión.
Al analizar el historial de Eric Cantor, no es necesario poner su política de lucha contra la inmigración bajo un microscopio para saber que por largo tiempo, ha sostenido un claro rechazo y su resistencia a cualquier reforma migratoria integral. En una carrera para ganarse los corazones de los republicanos en un distrito predominantemente republicano, dos candidatos antiinmigrantes lucharán para ganar los votos de los candidatos en temas de inmigración no relacionada.
Hoy, en este tipo de carreras, un candidato "del pueblo y para el pueblo" es más atractivo que un "Candidato cabildero de D.C. Sin embargo, si Cantor hubiera tenido una "política de inmigración flexible", habría movilizado a la "otra" base republicana (cada vez es más grande) que favorece la reforma migratoria.
Alguien puede preguntar entonces, ¿pero quienes son esos "otros" republicanos? y la respuesta es: ¡LOS LATINOS!
Segunda lección: Los datos demográficos están cambiando en todas partes incluso en VA pero el Partido Republicano en Virginia tiende a pasar por alto este hecho.
Incluso Eric Cantor, el número dos del más alto rango republicano. Muchos analistas creen, que no hizo suficientes esfuerzos para ganarse los corazones de los latinos en su distrito, en Virginia o en la nación en general.
Se puede decir que los latinos representan una pequeña parte de su distrito, predominantemente blanco. Esto es cierto. ¿Pero recientemente las elecciones no se han decidido por los votantes indecisos y por pocos votos?
Muchos creen que una combinación de puntos de vista sobre moderados sobre inmigración y más trabajo con las minorías (afroamericanos, asiáticos y latinos) podría haber cambiado el resultado para el "pez gordo" republicano.
Tercera Lección: Los candidatos republicanos pro-inmigrantes han ganado más elecciones primarias recientemente que sus opositores anti-inmigración.
En un informe publicado por "Latino Decisions", el autor publicó una estadística muy interesante en apoyo de esta teoría: "El mismo día que perdió Cantor, el senador republicano Lindsey Graham ganó fácilmente su primaria en la conservadora Carolina del Sur con el 57% de los votos. Su rival más cercano – que lo atacó por apoyar una reforma migratoria – ganó sólo el 15% del voto primario.
Como recordarán Graham fue uno de los que conformaron el grupo de los 8 que patrocinaron el proyecto de ley de reforma migratoria que aprobó el Senado de EE.UU.. "El autor del informe citado, dio otros ejemplos de cómo otros republicanos cobraron su apoyo a reforma migratoria ganado sus primarias.
"En el distrito 14 de Ohio, Matt Lynch hizo campaña sobre una estricta plataforma antiinmigrante y llamó a su rival David Joyce demasiado moderado en materia de inmigración. El candidato moderado Joyce derrotó fácilmente al candidato anti-inmigrante Lynch. En el Senado EE.UU. En las primarias de Georgia, el candidato anti-inmigrante, Paul Broun, terminó con menos del 10% del voto republicano, perdiendo con el empresario David Perdue.
En el distrito 10 de California, el republicano Jeff Denham, que ha co-patrocinado una legislación de reforma migratoria en la Cámara ni siquiera tuvo un rival republicano".
Estas son evidencias claras del impacto que tiene el tema de inmigración en las primarias republicanas.
A medida que la carrera por el congreso esta más cerca de su meta final, el tema de la inmigración será un factor de presión. Puede que no sea todavía "el" factor decisivo en el séptimo distrito, pero sin duda va a ser uno de ellos.
En el distrito 7th , la carrera en el otoño va a ser entre un candidato demócrata y uno republicano, con puntos de vista muy contrarios en cuanto a la inmigración.
¿Dónde está usted?
Introduction To Fayad Law, P.C.
Have questions about your rights? Ready to discuss your
immigration case? Contact Fayad Law, P.C. now.
What Sets Fayad Law, P.C. Apart?
As a boutique law firm, we make sure that every single case we handle and client we represent receives our personal attention. We limit our caseload to ensure our clients feel truly supported at every moment, from start to finish. Your best interests will always be priority – and that is our driving priority. We know that any type of legal matter can be overwhelming. We approach every case with compassion and dedication from start to finish because we know how much may be at stake for you. We bring more than 20 years of combined legal experience to the table, which gives our clients the legal knowledge and insight needed to successfully navigate various legal processes.

Firsthand Experience
as Immigrants

English, Arabic, French,
Russian and Spanish

Proven Track
Record of Success

Personal, One-on-One
Attention​

You Stay Informed
at All Times
We Strive for Client
Satisfaction
Real Clients, Real Testimonials
Professional Associations
Have questions about your rights? Ready to discuss your immigration case? Contact Fayad Law, P.C. now.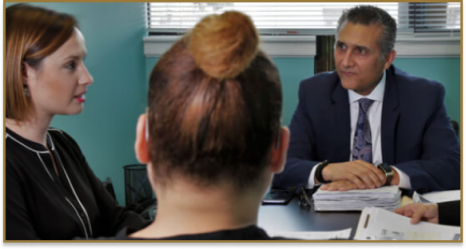 Sign up for the Fayad Law, P.C. Newsletter and get monthly news
straight to your inbox!