De la fianza a la detención de ICE – Las dolorosas
GET THE LEGAL HELP YOU NEED
De la fianza a la detención de ICE – Las dolorosas 48 horas
Muchas de las familias de mis clientes no-ciudadanos vienen a mí oficina después de que sus seres queridos han sido tomados en custodia por el estado debido a una violación de la ley: DUI y DWI, diversas multas por velocidad, conflictos de violencia doméstica, hurto y otras violaciones.
El resultado es uno solo. Su ser querido esta en custodia del estado y es el momento para que él / ella pueda salir fuera con una fianza. Algunos consiguen el dinero o llaman a una compañía de fianzas para que presente la fianza y antes o después de esto escuchamos esta frase: " Esta persona tiene una orden de detención del ICE".
Es diferente la reacción de las personas cuando reciben esta noticia en la puerta de la cárcel. Sin embargo, todos entienden una cosa, esta frase es muy mala para ellos; su ser querido no va a ser puesto en libertad, aun si paga la fianza o no.
En mi experiencia, la mayoría de las personas que vienen a mi oficina con un problema se confunden y no tienen idea acerca de este problema de la detención y lo más importante, es que no pueden entender por qué, si el estado está dispuesto a liberar a la persona, inmigración tiene que poner en la puerta de la cárcel a sus seres queridos, y anular la autoridad del estado.
Por esa razón, siento que hay una necesidad de entrar en el mundo de la palabra "Retención" y explicar a nuestros lectores, que es una orden de detención, cuando se puede utilizar una orden de detención, cuando una orden de detención no es correcta, y cómo hacer frente a la parte de inmigración cuando toma su lugar en el caso cuando una orden de detención.
1. ¿Qué es una orden de detención?
Una de orden de retención de inmigración o ICE es un aviso a las agencias policiales federales, estatales y locales, para informar a estas agencias, que ICE tiene la intención de proceder en la detención de un individuo que se encuentra en la custodia de esos organismos policiales . En otras palabras, la orden de detención es un formulario enviado por el ICE a las autoridades locales para informarles de que tienen interés en una persona específica que está en su custodia.
La detención de inmigración se dirige a los no ciudadanos y según ICE sirve para 3 propósitos: a) para notificar a la entidad policial que ICE tiene la intención de asumir la custodia de un no ciudadano de EE.UU. que está bajo su custodia una vez que el no ciudadano ya no está sujeto a la detención en cumplimiento de la ley , b) solicitar información a una agencia de aplicación de la ley sobre el tiempo que un no ciudadano será liberado, por lo que ICE puede asumir la custodia antes de que esa persona sea liberada de la custodia local, y c ) pedir que la autoridad local mantenga la custodia de un no ciudadano que de otro modo será liberado durante un periodo que no debe exceder de 48 horas , excluyendo sábados, domingos y días festivos, para dar tiempo a asumir la custodia del ICE .
2. Cuando se puede utilizar una orden de detención?
Sobre la base de la determinación anterior, una orden de detención se puede utilizar cuando la persona se encuentra en custodia de la autoridad que debe aplicar la ley y después de que dicha autoridad informe a ICE que hay una persona bajo su custodia que creen que él / ella no es un ciudadano de EE.UU. y la autoridad de aplicación de la ley estatal o federal ha presentado algunos cargos en su contra y pueden afectar su estatus en los EE.UU.
Puede parecer tan simple como esto, pero en realidad es un tema muy confuso y pone a la autoridad de aplicación legal una alta carga para identificar quién es un sujeto para ICE y quién no. Cómo sabe un oficial de policía cuando lleva a una persona bajo custodia que él o ella es un no ciudadano EE.UU.? Es su fuerte acento en el Inglés una razón suficiente para dudar de su ciudadanía? El hecho de que la persona se olvidó de su licencia de conducir en casa y se ve latino es suficiente? Esas y muchas otras son preguntas serias con graves consecuencias para los derechos civiles, que un agente de la ley tiene que sopesar antes de tomar una decisión de investigar con ICE si la persona detenida es una persona buscada por ICE.
Cuando una orden de detención no es correcta?
En primer lugar, una orden de detención no es adecuada e incluso es ilegal, si la persona es un ciudadano de los EE.UU. Hubo situaciones en que el ICE puso injustamente órdenes de detención a ciudadanos de Estados Unidos , ya que parecían latinos y de otras minorías, hablaban con un acento fuerte y estaban en el lugar equivocado en el momento equivocado.
En segundo lugar, una orden de detención no es adecuada si la persona ya no está bajo custodia estatal o terminó de cumplir su mandato y ICE no los recoge dentro de 48 horas.
La ley es muy clara. La persona no puede estar en custodia del estado ni un minuto después de 48 horas. Si ICE no viene a recogerlo, el estado debe ponerlo en libertad. El no hacer eso puede ser considerado como una grave violación de los derechos civiles de la persona y él o ella pueden entonces entablar una demanda contra la autoridad de aplicación la ley por encarcelamiento ilegal.
¿Cómo lidiar con la parte de inmigración del caso, cuando hay una orden de detención?
Cuando un no ciudadano es detenido por las autoridades estatales o federales, e inmigración emite una orden de detención contra él / ella, es muy importante ponerse en contacto con un abogado de inmigración tan pronto como sea posible.
Un abogado de inmigración con experiencia debe ser capaz de comunicarse con el abogado que representa al no ciudadano en la parte penal (si ya está contratado o nombrado ) y explicar a él / ella las reglas apropiadas . Si no hay un abogado criminal, el abogado penal debe ser capaz de asesorar en la cárcel acerca de la regla de 48 horas y hacer un seguimiento del momento en que el no ciudadano debe ser liberado. Además, es fundamental contar en el caso con un abogado tan pronto como sea posible para determinar si el detenido es un ciudadano de los EE.UU. , tiene derecho a la ciudadanía o es víctima de un crimen.
Las 48 horas de detención por parte de las autoridades locales o federales para la aplicación de retención pueden ser lo más importante en el caso de alguien. Si su ser querido se convierta en un objeto de una orden de detención, no esperes más, porque tal vez sea demasiado tarde!
NASH FAYAD, Ph.d.
Abogado y Consejero de Leyes
(703) 998-5390
fayadlaw.com
Introduction To Fayad Law, P.C.
Have questions about your rights? Ready to discuss your
immigration case? Contact Fayad Law, P.C. now.
What Sets Fayad Law, P.C. Apart?
As a boutique law firm, we make sure that every single case we handle and client we represent receives our personal attention. We limit our caseload to ensure our clients feel truly supported at every moment, from start to finish. Your best interests will always be priority – and that is our driving priority. We know that any type of legal matter can be overwhelming. We approach every case with compassion and dedication from start to finish because we know how much may be at stake for you. We bring more than 20 years of combined legal experience to the table, which gives our clients the legal knowledge and insight needed to successfully navigate various legal processes.

Firsthand Experience
as Immigrants

English, Arabic, French,
Russian and Spanish

Proven Track
Record of Success

Personal, One-on-One
Attention​

You Stay Informed
at All Times
We Strive for Client
Satisfaction
Real Clients, Real Testimonials
Marines C.
23:34 31 Jan 23
Working with Fayad Law has been the best experience anyone can have. Everyone was exceedingly professional, reliable and punctual to say the least. If I ever need immigration lawyers again, Fayad Law will be my choice!
Ahora cuentan con un buen servicio y buena amabilidad, 👍
From start to finish Mr. Fayad and his team did an outstanding job, I had a complicated case but Fayad law did all that they said they would do, to ensure I would be sucessful in my quest to become a legal permanent resident. Today I am happy to say I am! . Thanks to the expert and caring staff. Greatly appreciated.
Thank you so much Oscar and Aida !
I really recommended Fayad law team!Mr.Aida did Amazing job with my case!I'm so lucky that i was one of your clients!😍thanks for you and for the team who was working on my case!!
mohammed A.
15:47 01 Sep 22
The indication I have been seeing in Fayed law actively work with client and realistic.
Gavi Yaneth H.
02:46 15 Jan 22
Very friendly staff and communicative!! If anyone is in need of immigration help, this is the place to go! They make the process simple, quick, and easy. Thank you Fayad Law!
To the point, great law office, friendlyThank u everyone
Nice place and friendly staff. Thank you Mrs. Marla for everything 🌺🌺
Fayad and everyone at his team have helped me and my family with our immigration issues/cases. I'm very impressed with their dedication and close attention to details. It's a firm that has great knowledge and great customer service. I highly recommend this firm!
Fayad law its a great firm very professional they made a great job With my case.
Stellar immigration firm. Had a very pleasant experience, had multiple cases handled by Fayad Law and they were responsive, knowledgeable and effective. Especially Mrs Dosmanova – highly recommend to work with this attorney, speaks multiple languages too
I'm very happy to work with Ms. Ektrena she helped me a lot through out my case, I would Thank her very much 🙂
Christian B.
06:14 29 Jan 20
We've been using Fayad law for years. They've successfully helped us obtain approval for an I-130 and are working on various other things on our immigration journey. They've also represented us on various traffic matters. We began working closely with Jonathan White a few years ago and he has always been refreshingly pleasant. I am greatfulmfor this practice and truly value the service we have been provided at Fayad Law- I cannot express the gratitude for the kindness that has been showed to my family.
Estamos muy agradecidos con la ayuda que el buffete nos ha ofrecido mi esposo fue detenido por ICE y fue procesada su deportacion de inmediato ..el llego a su pais de donde fue regresado a USA gracias a los abogados q detuvieron su deportacion…ellos lograron sacarlo con una fianza y estamos aqui Unidos en familia nuevamente …Gracias. Fayad Law por su apollo …vale la pena claro que si …🙏🙏🙏☺
I dealt with Ingy Girgis and she was beyond expectation in all matters , staff in the office are very helpful and cooperative. I realy recommend Fayad law office
Meilleur avocat très professionnel
Very knowledgeable and I would highly recommend his services.
Nice place kind and friendly staff
This review is being written after a phone consultation with Mr. Fayad. Mr. Fayad is a well-informed and caring person who tries his best to help his clients and lead them down the right path. His staff are understanding and polite, as they helped me with an issue concerning the timing of the consultation as well as followed-up after to ensure if I missed anything or needed any further help with my legal issue.Overall, I recommend Mr. Fayad for anyone who needs legal advice or help.
This review is specific for the front desk. The first face who greets you is Estaphania. She always has a smile and greets you warmly genuinely. She is attentive and seems like one who enjoys what she does.I can't rate the legal work yet because I just signed my contract with Mr. Fayyad and am hoping for the best.
The best one ever, great mindset, very clever
Nermine F.
14:17 12 Oct 18
We done my mother case with Mr. Fayad we want to thank everybody in the office they such of great team special johnsan he such a very good lawyer .. honest person thanks for his great job …Very helpful
Great Customer Service and knowledge about their business.
He is some of the best immigration LawyerOf Virginia.I'm so happy with the results.
They assisted my company with an H1-B visa for a key employee. Found the firm to be expert and responsive to our needs and concerns throughout the entire process.
The place to go if you have immigration issue
Professional Associations
Have questions about your rights? Ready to discuss your immigration case? Contact Fayad Law, P.C. now.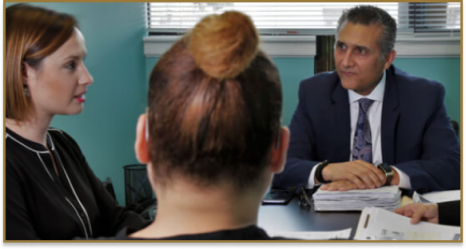 Sign up for the Fayad Law, P.C. Newsletter and get monthly news
straight to your inbox!