El Movimiento de Inmigración
GET THE LEGAL HELP YOU NEED
El Movimiento de Inmigración
30 abril, 2014
En enero pasado se celebró el día de Martin Luther King y con él se celebró tambien el movimiento de derechos civiles en este gran país. Y con la celebración del duro camino a la igualdad de oportunidades y derechos civiles para todos no podemos dejar de recordar el largo camino y la dura lucha por una nueva ley de inmigración.
Alguien puede preguntar: ¿Por qué la inmigración? Y que tienen en común el movimiento civil y el movimiento de los inmigrantes en Estados Unidos?
La verdad y la cuestión es que ambos movimientos tienen mucho en común, y usted y yo, mi respetado lector, vamos a explorar estas áreas comunes.
En primer lugar, ambos son derechos fundamentales. El movimiento de derechos civiles fue una lucha justa por los derechos fundamentales a la igualdad, los derechos y obligaciones dentro de la misma sociedad. Después de liberar a los esclavos, muchos en Estados Unidos pensaban que la lucha por una mejor sociedad había terminado. Pero poco después, muchas personas se dieron cuenta de que esto era sólo el punto de partida para una batalla más importante, la batalla por la igualdad en la sociedad entre personas blancas y personas de color. Muchas décadas pasaron antes de que un valiente visionario hubiera creído en este gran sueño y movilizado a la sociedad para corregir el curso de la historia una vez más.
En este sentido, la lucha por unas leyes de inmigración justas y más humanas es una pelea muy similar. Como ustedes saben, el sistema de inmigración de los EE.UU. es lo que lo convirtió en un gran país. El sistema de inmigración es el que ayudó a la economía para convertirse en la más fuerte del mundo. Disposiciones inteligentes y justas del sistema de inmigración hizo que los EE.UU. se convirtieran en una máquina de drenaje de cerebros de todo el mundo.
Ese mismo justo sistema es lo que hizo que muchas personas que en su país fueron maltratadas en su dignidad; encontraran un refugio la paz y la prosperidad en este gran país de libertad y oportunidades. Sin embargo, en las últimas décadas, el sistema de inmigración ha dejado de progresar y ha sufrido una gran cantidad de restricciones y regulaciones anti- humanitarias.
A pesar de que el Congreso aprobó dos importantes reformas de inmigración (1986 y 1996). Esas dos reformas no lograron estudiar la dinámica de las nuevas reglas del juego económico y lo más importante, no reconocieron el aumento de los conflictos internacionales y regionales y la necesidad de leyes y reglamentos más humanitarios.
Es cierto que ambas reformas migratorias, incluían las disposiciones de una amnistía para los indocumentados que en ese momento residían en los EE.UU., pero también ambas reformas trajeron una gran cantidad de nuevas disposiciones anti-inmigrantes que restringían más a los inmigrantes de los últimas dos décadas para conseguir beneficios migratorios como los que obtuvieron esos beneficios en su momento.
Todos estos factores crearon la necesidad de un movimiento de inmigrantes similar al movimiento de los derechos civiles de los años sesenta para corregir el curso de la historia y establecer una vez más nuevos principios fundamentales, leyes modernas y regulaciones de inmigración para poder competir de nuevo en el mercado internacional y para dar un refugio a los que buscan la libertad y luchan por los derechos humanos en todo el mundo.
En segundo lugar, ambos, el movimiento de los derechos civiles y el movimiento migratorio, empezaron con un gran sueño y con una persona que creyó en ese sueño, y esa persona no estaba dispuesta a comprometer su sueño por ningún precio.
Este espíritu inspiró a millones de personas y movilizó a toda la nación por una sociedad libre de la segregación. Un movimiento que fue hecho por una leyenda que aún hoy vive e inspira a las nuevas generaciones. Todo porque un hombre creyó en un gran sueño.
Hoy en día, también tenemos un gran sueño. Un sueño por mejores leyes de inmigración. Un sueño por leyes que den mejores oportunidades a las personas de todo el mundo para invertir sus ideas y su dinero en la economía de EE.UU. Un sueño por mejores regulaciones de inmigración que permitan a los jóvenes inteligentes de todo el mundo poner en práctica sus ideas y poner su mente a trabajar para y por la economía de EE.UU. Un sueño por mejores leyes de inmigración guiadas por las estadísticas y dirigidas por la necesidad del mercado de tener trabajadores temporales no inmigrantes calificados.
Y finalmente, un sueño por mejores reglas y regulaciones de inmigración que den a los que tomaron esta tierra como de ellos, para que puedan vivir y trabajar legalmente y ser capaces de criar a sus hijos nacidos en los EE.UU., con dignidad y sin miedo a la separación.
En el movimiento de derechos civiles Martin Luther King, fue el soñador y en el movimiento de los inmigrantes de hoy, tenemos un ejército de jóvenes inmigrantes indocumentados que fueron criados en este país, a ellos se les llama "soñadores".
Estos dos movimientos nacieron por el miedo, y lo lograron sólo cuando encontraron una manera de eliminar el factor miedo.
Hoy en día, a medida que avanza el año 2014, es importante recordar a todos que el movimiento de los inmigrantes ha llegado a un momento histórico crucial, debido a unos DREAMERS valientes que iniciaron este movimiento moderno.
Su actitud es lo que va a lograr que la reforma migratoria integral llegue a la línea de meta. Pero tenemos el deber ético de apoyarlos y reunirnos detrás de ellos para mantener el impulso.
Nash J. Fayad , Ph.D.
Abogado y Consejero en la Ley
Ley Fayad , P.C.
(703) 998-5390
fayadlaw.com
Introduction To Fayad Law, P.C.
Have questions about your rights? Ready to discuss your
immigration case? Contact Fayad Law, P.C. now.
What Sets Fayad Law, P.C. Apart?
As a boutique law firm, we make sure that every single case we handle and client we represent receives our personal attention. We limit our caseload to ensure our clients feel truly supported at every moment, from start to finish. Your best interests will always be priority – and that is our driving priority. We know that any type of legal matter can be overwhelming. We approach every case with compassion and dedication from start to finish because we know how much may be at stake for you. We bring more than 20 years of combined legal experience to the table, which gives our clients the legal knowledge and insight needed to successfully navigate various legal processes.

Firsthand Experience
as Immigrants

English, Arabic, French,
Russian and Spanish

Proven Track
Record of Success

Personal, One-on-One
Attention​

You Stay Informed
at All Times
We Strive for Client
Satisfaction
Real Clients, Real Testimonials
Marines C.
23:34 31 Jan 23
Working with Fayad Law has been the best experience anyone can have. Everyone was exceedingly professional, reliable and punctual to say the least. If I ever need immigration lawyers again, Fayad Law will be my choice!
Ahora cuentan con un buen servicio y buena amabilidad, 👍
From start to finish Mr. Fayad and his team did an outstanding job, I had a complicated case but Fayad law did all that they said they would do, to ensure I would be sucessful in my quest to become a legal permanent resident. Today I am happy to say I am! . Thanks to the expert and caring staff. Greatly appreciated.
Thank you so much Oscar and Aida !
I really recommended Fayad law team!Mr.Aida did Amazing job with my case!I'm so lucky that i was one of your clients!😍thanks for you and for the team who was working on my case!!
mohammed A.
15:47 01 Sep 22
The indication I have been seeing in Fayed law actively work with client and realistic.
Gavi Yaneth H.
02:46 15 Jan 22
Very friendly staff and communicative!! If anyone is in need of immigration help, this is the place to go! They make the process simple, quick, and easy. Thank you Fayad Law!
To the point, great law office, friendlyThank u everyone
Nice place and friendly staff. Thank you Mrs. Marla for everything 🌺🌺
Fayad and everyone at his team have helped me and my family with our immigration issues/cases. I'm very impressed with their dedication and close attention to details. It's a firm that has great knowledge and great customer service. I highly recommend this firm!
Fayad law its a great firm very professional they made a great job With my case.
Stellar immigration firm. Had a very pleasant experience, had multiple cases handled by Fayad Law and they were responsive, knowledgeable and effective. Especially Mrs Dosmanova – highly recommend to work with this attorney, speaks multiple languages too
I'm very happy to work with Ms. Ektrena she helped me a lot through out my case, I would Thank her very much 🙂
Christian B.
06:14 29 Jan 20
We've been using Fayad law for years. They've successfully helped us obtain approval for an I-130 and are working on various other things on our immigration journey. They've also represented us on various traffic matters. We began working closely with Jonathan White a few years ago and he has always been refreshingly pleasant. I am greatfulmfor this practice and truly value the service we have been provided at Fayad Law- I cannot express the gratitude for the kindness that has been showed to my family.
Estamos muy agradecidos con la ayuda que el buffete nos ha ofrecido mi esposo fue detenido por ICE y fue procesada su deportacion de inmediato ..el llego a su pais de donde fue regresado a USA gracias a los abogados q detuvieron su deportacion…ellos lograron sacarlo con una fianza y estamos aqui Unidos en familia nuevamente …Gracias. Fayad Law por su apollo …vale la pena claro que si …🙏🙏🙏☺
I dealt with Ingy Girgis and she was beyond expectation in all matters , staff in the office are very helpful and cooperative. I realy recommend Fayad law office
Meilleur avocat très professionnel
Very knowledgeable and I would highly recommend his services.
Nice place kind and friendly staff
This review is being written after a phone consultation with Mr. Fayad. Mr. Fayad is a well-informed and caring person who tries his best to help his clients and lead them down the right path. His staff are understanding and polite, as they helped me with an issue concerning the timing of the consultation as well as followed-up after to ensure if I missed anything or needed any further help with my legal issue.Overall, I recommend Mr. Fayad for anyone who needs legal advice or help.
This review is specific for the front desk. The first face who greets you is Estaphania. She always has a smile and greets you warmly genuinely. She is attentive and seems like one who enjoys what she does.I can't rate the legal work yet because I just signed my contract with Mr. Fayyad and am hoping for the best.
The best one ever, great mindset, very clever
Nermine F.
14:17 12 Oct 18
We done my mother case with Mr. Fayad we want to thank everybody in the office they such of great team special johnsan he such a very good lawyer .. honest person thanks for his great job …Very helpful
Great Customer Service and knowledge about their business.
He is some of the best immigration LawyerOf Virginia.I'm so happy with the results.
They assisted my company with an H1-B visa for a key employee. Found the firm to be expert and responsive to our needs and concerns throughout the entire process.
The place to go if you have immigration issue
Professional Associations
Have questions about your rights? Ready to discuss your immigration case? Contact Fayad Law, P.C. now.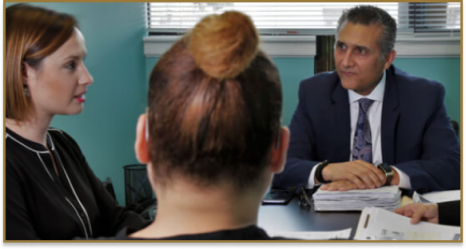 Sign up for the Fayad Law, P.C. Newsletter and get monthly news
straight to your inbox!