GET THE LEGAL HELP YOU NEED
EE.UU. de Inmigración y Aduanas (ICE)
EE.UU. de Inmigración y Aduanas (ICE) es responsable de la detención y expulsión de los no ciudadanos. Una de las prioridades de la agencia es la eliminación de los no ciudadanos en las cárceles y prisiones. ICE con la cooperación de agentes de la policía o de ley generalmente identifican a esos individuos para deportarlos haciéndoles preguntas y ejecutando diversos controles informáticos (por computadora). En muchos condados, los agentes de inmigración en cooperación con la policía local, entrevistan a los no ciudadanos acusados o en un juicio en las cárceles locales para determinar si pueden ser objeto de deportación o expulsión basándose en crímenes cometidos en el pasado o en la falta de estatus migratorio. Ellos están particularmente interesados en identificar a las personas que han sido previamente deportados o tienen una orden de deportación.
Asilados o refugiados por Inmigración
Cada año millones de personas vienen a los Estados Unidos buscando protección porque los están persiguiendo en su país de origen ya sea por asuntos religiosos, políticos, raciales, o porque pertenecen a grupos o pandillas. Aquellas personas que hayan comprobado que realmente han sido perseguidos y tienen fundamento para tener miedo de regresar a sus países de origen son elegibles para aplicar por asilo y permanecer en los Estados Unidos. (Párrafo tomado textualmente de los Servicios de Inmigración y Ciudadanía de los Estados Unidos sus siglas en Ingles son USCIS).
Family based immigrant visas to the US
Permanent immigration or lawful permanent residency in the U.S. comes with a variety of rights and privileges including the right to permanently live and work in the U.S. If you want to immigrate to the U.S. through the family-based category, your relative who is either a U.S. Citizen or a Lawful Permanent Resident must sponsor you.
La Solicitud de Inmigración basados en la familia
La inmigración permanente o la residencia permanente legal en los EE.UU vienen con una variedad de derechos y privilegios, incluyendo el derecho a vivir y trabajar permanentemente en los EE.UU. Si usted quiere inmigrar a los EE.UU basado en la categoría-familia, usted debe patrocinado por un pariente que sea Ciudadano de los EE.UU o un residente permanente legal.
Non-Immigrant Treaty Visas to the US
The Treaty Trader (E-1) or Treaty Investor (E-2) visa is for a national of a country with which the United States (U.S.) maintains a treaty of commerce and navigation who is coming to the U.S. to carry on substantial trade, including trade in services or technology, principally between the U.S. and the treaty country, or to develop and direct the operations of an enterprise in which the national has invested, or is in the process of investing a substantial amount of capital, under the provisions of the Immigration and Nationality Act.
Victimas de Trata de Personas: Visa T de no inmigrante:
Q: Que es la trata de personas?
A. Es cuando se trafica con personas. Estas personas son llevadas a otros paises con la promesa de una vida mejor . Y la realidad es que van a ser victimas de maltrato, prostitucion, etc.
Introduction To Fayad Law, P.C.
Have questions about your rights? Ready to discuss your
immigration case? Contact Fayad Law, P.C. now.
What Sets Fayad Law, P.C. Apart?
As a boutique law firm, we make sure that every single case we handle and client we represent receives our personal attention. We limit our caseload to ensure our clients feel truly supported at every moment, from start to finish. Your best interests will always be priority – and that is our driving priority. We know that any type of legal matter can be overwhelming. We approach every case with compassion and dedication from start to finish because we know how much may be at stake for you. We bring more than 20 years of combined legal experience to the table, which gives our clients the legal knowledge and insight needed to successfully navigate various legal processes.

Firsthand Experience
as Immigrants

English, Arabic, French,
Russian and Spanish

Proven Track
Record of Success

Personal, One-on-One
Attention​

You Stay Informed
at All Times
We Strive for Client
Satisfaction
Real Clients, Real Testimonials
Professional Associations
Have questions about your rights? Ready to discuss your immigration case? Contact Fayad Law, P.C. now.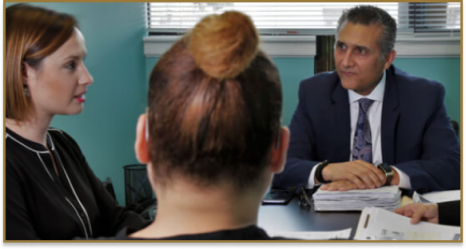 Sign up for the Fayad Law, P.C. Newsletter and get monthly news
straight to your inbox!