Choose Skilled Deportation Defense Attorneys
When foreign nationals flee to the United States from their own countries due to persecution that places them in serious danger, they are often able to obtain asylum in the U.S. This allows the foreign national to legally stay in the United States and eventually apply for a green card. One form of asylum is referred to as "defensive asylum." This occurs when a foreign national is currently facing removal proceedings and applies for asylum as a defense against removal. According to 
U.S. Citizenship and Immigration Services
 (USCIS), a person may be placed in defensive asylum proceedings in one of the following situations:
The foreign national was caught at a U.S. port of entry or elsewhere in the United States without sufficient legal documentation, or with immigration status violations.
The foreign national was caught trying to illegally enter the U.S. without sufficient documentation, was subjected to an expedited removal process, and showed that he or she had a credible fear of being tortured or persecuted by the asylum officer.
The foreign national was deemed ineligible for asylum through the traditional process (the affirmative asylum process), and USCIS referred the case to an immigration judge. In defensive asylum cases, the case must be heard before a judge. Both the foreign national's lawyer and a lawyer for the U.S. Government must present their arguments before the judge, who decides whether or not to grant asylum. If asylum is not an option, the judge may allow for another type of 
deportation/removal
 relief. Those who lose their defensive asylum cases and who are also unable to obtain any other form of relief are deported from the U.S.
Get Help from a Virginia immigration attorney!
Are you trying to secure asylum protection in the United States through defensive asylum proceedings? If so, it is crucial that you retain the services of a qualified immigration attorney. A Virginia immigration lawyer from our firm, Fayad Law, P.C., can help you ensure that your case is effectively argued before the judge and that all other aspects of your immigration-related matter are being properly handled. Without the right legal representation, you could run a much higher risk of being deported from the U.S. and forced to return to the threatening situation that you were previously facing in your home country.
Introduction To Fayad Law, P.C.
Have questions about your rights? Ready to discuss your
immigration case? Contact Fayad Law, P.C. now.
What Sets Fayad Law, P.C. Apart?
As a boutique law firm, we make sure that every single case we handle and client we represent receives our personal attention. We limit our caseload to ensure our clients feel truly supported at every moment, from start to finish. Your best interests will always be priority – and that is our driving priority. We know that any type of legal matter can be overwhelming. We approach every case with compassion and dedication from start to finish because we know how much may be at stake for you. We bring more than 20 years of combined legal experience to the table, which gives our clients the legal knowledge and insight needed to successfully navigate various legal processes.

Firsthand Experience
as Immigrants

English, Arabic, French,
Russian and Spanish

Proven Track
Record of Success

Personal, One-on-One
Attention​

You Stay Informed
at All Times
We Strive for Client
Satisfaction
Real Clients, Real Testimonials
Professional Associations
Have questions about your rights? Ready to discuss your immigration case? Contact Fayad Law, P.C. now.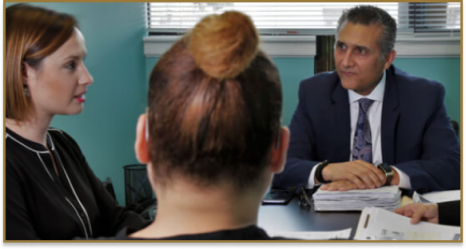 Sign up for the Fayad Law, P.C. Newsletter and get monthly news
straight to your inbox!