Providing Guidance to Clients
If you are from a specified list of countries, listed here on the 
United States Department of State's
 website, the visa waiver program will allow you to travel to the United States for stays of 90 days or less, without a visa. If you require assistance applying for the visa waiver program, call us at Fayad Law, P.C. We have coordinated groups or travelers and can guide you through the process quickly and easily. There are certain requirements you must meet in order to qualify and the Department of State has implemented a web-based application process called the Electronic System for Travel Authorization, or ESTA, as it is commonly known. Our firm can help you through the process, and expedite a visa so that you are not waiting months, or have a denial due to failing to submit your application correctly.
ESTA Requirements for the Visa Waiver Program
Of course, one of the most important requirements is that you have never been in non-compliance with any previous admissions to the United States and be visa eligible just as in the case of a B-1 or B-2 visa. Essentially, this is a program for certain countries' citizens to be able to get a B-1 or B-2 equivalent passage into the United States by applying online. You must also have a passport that is valid for at least 6 months after your entry into the United States. Beginning on March 31, 2014, the country of Chile is being added to the list of eligible countries under the visa waiver program.
At our law firm, we handle thousands of immigration cases and visa applications per year. We welcome your call to ask questions and would be glad to have a consultation with you over the phone to discuss your immigration needs. Our firm has gained recognition and a reputation as one of the premier immigration law firms in Virginia.
Please contact us today
 and discover why so many people have chosen our firm to represent them in their immigration matters.
Introduction To Fayad Law, P.C.
Have questions about your rights? Ready to discuss your
immigration case? Contact Fayad Law, P.C. now.
What Sets Fayad Law, P.C. Apart?
As a boutique law firm, we make sure that every single case we handle and client we represent receives our personal attention. We limit our caseload to ensure our clients feel truly supported at every moment, from start to finish. Your best interests will always be priority – and that is our driving priority. We know that any type of legal matter can be overwhelming. We approach every case with compassion and dedication from start to finish because we know how much may be at stake for you. We bring more than 20 years of combined legal experience to the table, which gives our clients the legal knowledge and insight needed to successfully navigate various legal processes.

Firsthand Experience
as Immigrants

English, Arabic, French,
Russian and Spanish

Proven Track
Record of Success

Personal, One-on-One
Attention​

You Stay Informed
at All Times
We Strive for Client
Satisfaction
Real Clients, Real Testimonials
Professional Associations
Have questions about your rights? Ready to discuss your immigration case? Contact Fayad Law, P.C. now.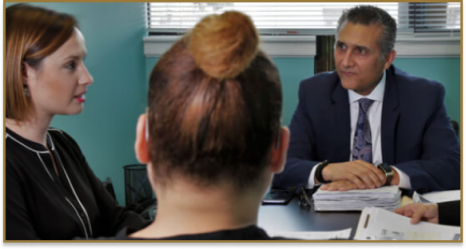 Sign up for the Fayad Law, P.C. Newsletter and get monthly news
straight to your inbox!