Choose US Immigration Attorneys with Decades of Experience
If you are coming to the United States to study in an academic program or university, an F-1 visa may be right for you. If you do not qualify to enter the United States under any other immigration status and are solely traveling to the United States to study in an educational institution approved by the Department of Homeland Security, the F-1 visa is the visa you will most likely need. At Fayad Law, P.C., we are proven professionals in helping foreign nationals obtain their visas in a quick and efficient manner and will be glad to answer any and all questions you may have relating to the student visa program and any other immigration matters.
In addition to the student being able to obtain a visa, the derivative visa known as an F-2 is for the student's spouse or child. When the student's main course of study has completed, an extension of the F-1 visa is allowed under what is known as the optional practical training program which allows a student who has graduated to work for 1 year in the United States. There have also been cases where a student who has graduated can serve 1 year as an unpaid intern under the OPT extension, and then also work for pay for 1 year after that with the application for an additional extension.
At times the immigration application process can be difficult and confusing. Take the time to call our firm at (703) 998-5390 and speak with one of our knowledgeable and experienced immigration law attorneys about your situation. We can help ease the process and give you peace of mind, knowing that your visa matters are being handled by a team of well-trained immigration lawyers and their staff.
Avoid the frustrating delays and resubmissions which can occur if you file your application improperly by letting a well-versed immigration lawyer in Virginia guide you through the process. 
Contact us today.
Introduction To Fayad Law, P.C.
Have questions about your rights? Ready to discuss your
immigration case? Contact Fayad Law, P.C. now.
What Sets Fayad Law, P.C. Apart?
As a boutique law firm, we make sure that every single case we handle and client we represent receives our personal attention. We limit our caseload to ensure our clients feel truly supported at every moment, from start to finish. Your best interests will always be priority – and that is our driving priority. We know that any type of legal matter can be overwhelming. We approach every case with compassion and dedication from start to finish because we know how much may be at stake for you. We bring more than 20 years of combined legal experience to the table, which gives our clients the legal knowledge and insight needed to successfully navigate various legal processes.

Firsthand Experience
as Immigrants

English, Arabic, French,
Russian and Spanish

Proven Track
Record of Success

Personal, One-on-One
Attention​

You Stay Informed
at All Times
We Strive for Client
Satisfaction
Real Clients, Real Testimonials
Professional Associations
Have questions about your rights? Ready to discuss your immigration case? Contact Fayad Law, P.C. now.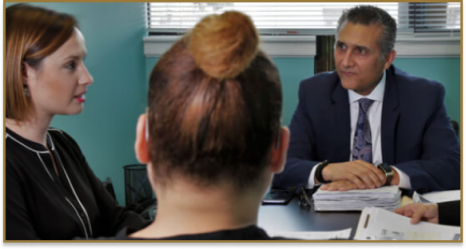 Sign up for the Fayad Law, P.C. Newsletter and get monthly news
straight to your inbox!