Providing Knowledgeable Advice
An E-2 visa is a treaty investor visa which allows international investors to open a business and live and work in the United States. The E-2 is one of the most popular vehicles to enter the United States and own a business in the country, and also allows for a spouse of an E-2 visa holder to work while in the United States accompanying their spouse. At Fayad Law, P.C., we can help you prepare your application and submit it with the confidence and peace of mind that you are in the best possible position for acceptance. Contact us today for any questions or concerns you may have, preferably before filing your submission. We can guide you in obtaining the proper supporting documentation, which is crucial to the granting of an E-2 visa. In addition, our experience has taught us extremely valuable lessons in how to package your submission for the optimum chance of success upon initial filing.
International Investment Visas: Virginia Visa Lawyer
When submitting any form for a visa or 
immigration
 benefit in the United States, thorough preparation and supporting document explanation is absolutely necessary in order to avoid lengthy delays and needless denials. Count on the experience and guidance of highly qualified and competent immigration attorneys in Virginia when filing for any visa or immigration benefit. The frustration and aggravation of receiving multiple returns of your application for errors can dissuade even the most tenacious layperson. Our attorneys are highly trained to effectively and accurately prepare submission packages for acceptance and approval. If you are considering opening a business in the United States, contact us for advice and guidance to ease the process and give you the peace of mind that you will be approved in a timely manner.
Contact us today
 for a free consultation and let us use our years of knowledge and experience to help you.
Introduction To Fayad Law, P.C.
Have questions about your rights? Ready to discuss your
immigration case? Contact Fayad Law, P.C. now.
What Sets Fayad Law, P.C. Apart?
As a boutique law firm, we make sure that every single case we handle and client we represent receives our personal attention. We limit our caseload to ensure our clients feel truly supported at every moment, from start to finish. Your best interests will always be priority – and that is our driving priority. We know that any type of legal matter can be overwhelming. We approach every case with compassion and dedication from start to finish because we know how much may be at stake for you. We bring more than 20 years of combined legal experience to the table, which gives our clients the legal knowledge and insight needed to successfully navigate various legal processes.

Firsthand Experience
as Immigrants

English, Arabic, French,
Russian and Spanish

Proven Track
Record of Success

Personal, One-on-One
Attention​

You Stay Informed
at All Times
We Strive for Client
Satisfaction
Real Clients, Real Testimonials
Professional Associations
Have questions about your rights? Ready to discuss your immigration case? Contact Fayad Law, P.C. now.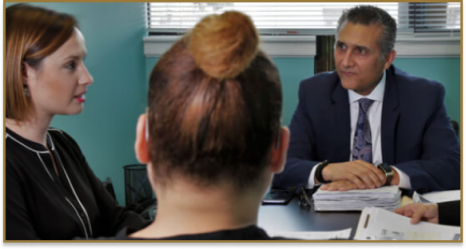 Sign up for the Fayad Law, P.C. Newsletter and get monthly news
straight to your inbox!