Obtain Legal Guidance from a US Immigration Lawyer!
U.S. citizens' fiancé(e)s who get visas to come to the United States may have minor children whom they need to bring with them. In order for this to be possible, a nonimmigrant K-2 visa needs to be obtained for each child. These types of visas are obtained in conjunction with the K-1 fiancé visa, or the visa that allows the foreign fiancé(e) (the child's parent) to enter the U.S. and stay for a designated period of time.
With the K-1 and K-2 visas, the foreign fiancé(e) and his or her children do not have to be separated from the U.S. citizen in the few months leading up to the wedding and in the time that it takes for their statuses to be adjusted to permanent resident status. The adjustment of status for any child of a foreign fiancé(e) must take place within the required timeframe since K-2 visas only allow temporary stays in the U.S.
Do you need assistance with securing a K-2 visa so that your future family can be together? If so, you can turn to our legal team at Fayad Law, P.C., which has more than 20 years of combined legal experience. Our Virginia immigration attorneys can guide you through the K-2 visa application process and help you ensure that you are doing everything possible to complete the process successfully.
Who is considered an eligible child under the K-2 visa?
It is important to note that the child of a U.S. citizen's foreign fiancé(e) is only eligible for a K-2 visa (and readjustment of status as K-2 visa holder) if he or she is unmarried and under the age of 21, according to USCIS. If a fiancé(e)'s "minor child" obtains a K-2 visa before the age of 21 and then turns 21 while his or her readjustment of status application is still pending, this individual could potentially be exempted from the rule if certain circumstances are met. A U.S. citizen must serve as the sponsor for the child in his or her K-2 visa. Furthermore, the children's readjustment of status applications of the child (the K-2 visa holder) and the parent (the K-1 visa holder) must be filed at the same time.
Let our skilled attorneys at Fayad Law, P.C. provide you with dedicated legal counsel as you and your loved ones work on establishing your family's future together in the U.S. Contact us today!
Introduction To Fayad Law, P.C.
Have questions about your rights? Ready to discuss your
immigration case? Contact Fayad Law, P.C. now.
What Sets Fayad Law, P.C. Apart?
As a boutique law firm, we make sure that every single case we handle and client we represent receives our personal attention. We limit our caseload to ensure our clients feel truly supported at every moment, from start to finish. Your best interests will always be priority – and that is our driving priority. We know that any type of legal matter can be overwhelming. We approach every case with compassion and dedication from start to finish because we know how much may be at stake for you. We bring more than 20 years of combined legal experience to the table, which gives our clients the legal knowledge and insight needed to successfully navigate various legal processes.

Firsthand Experience
as Immigrants

English, Arabic, French,
Russian and Spanish

Proven Track
Record of Success

Personal, One-on-One
Attention​

You Stay Informed
at All Times
We Strive for Client
Satisfaction
Real Clients, Real Testimonials
Professional Associations
Have questions about your rights? Ready to discuss your immigration case? Contact Fayad Law, P.C. now.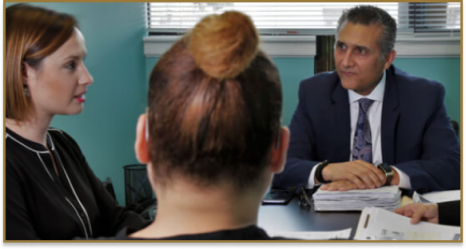 Sign up for the Fayad Law, P.C. Newsletter and get monthly news
straight to your inbox!