Fourth Circuit Court of Appeals
Fourth Circuit Court of Appeals
US Immigration Appeals Attorney
The Fourth Circuit Court of Appeals is the appellate court which handles appeals of cases from the federal district courts and federal administrative agencies in Virginia, West Virginia, Maryland, North Carolina and South Carolina. As such, it is the Court of Appeals in which the immigration attorneys at Fayad Law, P.C. frequently file and argue immigration appeals. For over two decades, our immigration attorneys have been helping those clients who have had a case heard by the Board of Immigration Appeals (BIA) or the United States Immigration and Customs Enforcement (ICE) and have sought to appeal their decisions to the Fourth Circuit Court of Appeals.
Representation for Immigration Appeals at the Fourth Circuit Court of Appeals
The technical and complex issues relating to the filing of an appeal with the Court of Appeals should be referred to an experienced immigration appellate attorney, as the requirements for filing and the legal arguments that must be made are very stringent and difficult to comprehend for most laypersons. Although an individual may have been removed from the United States, if an appeal is timely filed with the court, it will still be reviewed and may result in a reversal of the decision ordering removal. The fact that your loved one has been removed from the United States is not a reason for giving up on their case. The Fourth Circuit has reversed many orders of removals in the past.
In these matters, the timeliness of filing is crucial. Let us help you or your loved one if an appeal lies with the Fourth Circuit. Not every immigration firm has attorneys who are licensed to practice in the Fourth Circuit Court of Appeals, but here at Fayad Law P.C., we have attorneys admitted to practice before this court. Our decades of experience and success will work for you and assure you of the fact that you are getting the best legal representation available.
Contact us today
 and schedule your free consultation before the deadline for filing an appeal has passed.
Introduction To Fayad Law, P.C.
Have questions about your rights? Ready to discuss your
immigration case? Contact Fayad Law, P.C. now.
What Sets Fayad Law, P.C. Apart?
As a boutique law firm, we make sure that every single case we handle and client we represent receives our personal attention. We limit our caseload to ensure our clients feel truly supported at every moment, from start to finish. Your best interests will always be priority – and that is our driving priority. We know that any type of legal matter can be overwhelming. We approach every case with compassion and dedication from start to finish because we know how much may be at stake for you. We bring more than 20 years of combined legal experience to the table, which gives our clients the legal knowledge and insight needed to successfully navigate various legal processes.

Firsthand Experience
as Immigrants

English, Arabic, French,
Russian and Spanish

Proven Track
Record of Success

Personal, One-on-One
Attention​

You Stay Informed
at All Times
We Strive for Client
Satisfaction
Real Clients, Real Testimonials
Professional Associations
Have questions about your rights? Ready to discuss your immigration case? Contact Fayad Law, P.C. now.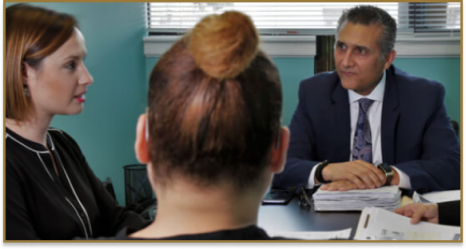 Sign up for the Fayad Law, P.C. Newsletter and get monthly news
straight to your inbox!