GET THE LEGAL HELP YOU NEED
1. Quiero solicitar mi residencia basada en una petición familiar de mi esposa ciudadana americana. ¿Necesitare un perdón? ¿En que situaciones se requiere un perdón?
Toda persona inmigrante que piensa solicitar una residencia debe consultar primero con un abogado para confirmar si requiere una exención/perdón en su caso. No se debe asumir que no necesita una exención. Solicitar la residencia sin una exención ,cuando una exención es requerida, puede resultar en que la solicitud sea negada y el solicitante puede ser procesado para deportación. Es mucho mejor prevenir que lamentar. En corto, el inmigrante que es inadmisible requiere de un perdón. El inmigrante inadmisible es la persona que entro sin documentos, la persona que entro con documentos los cuales se vencieron, o la persona que estuvo en los estados unidos sin permiso y salió del país.
2. ¿Cómo puedo saber si soy inadmisible?
La manera más segura es consultando con un abogado con experiencia. En general, las personas que entraron sin documentos, las personas que dejaron vencer sus visas, y las personas que han cometido ciertos delitos en los Estados Unidos serán inadmisibles. Otros ejemplos son las personas que cometen delitos que involucran la vileza moral, que tienen ciertas enfermedades, que han mentido a inmigración en el pasado, o que serán un cargo público a los estados unidos.
3. Utilize la residencia
permanente de mi hermana para viajar fuera del país. Ahora, quiero ajustar mi estatus solicitando la residencia. ¿Soy inadmisible? ¿Necesito un perdón/exención?
Si, usted hizo una representación falsa y cometió fraude para entrar legalmente a los E.E.U.U., usted es inadmisible por haber cometido este fraude. Y, por ser inadmisible, requiere de una exención/perdón antes de que inmigración le otorgue su solicitud para ajuste de estatus o su residencia. Este es un proceso, o sea una solicitud, separada, en la cual debe comprobar que usted tiene un familiar inmediato que es residente o ciudadano de los E.E.U.U. y que este familiar enfrenta sufrimiento grave y extremo si a usted se le niega su residencia.
Introduction To Fayad Law, P.C.
Have questions about your rights? Ready to discuss your
immigration case? Contact Fayad Law, P.C. now.
What Sets Fayad Law, P.C. Apart?
As a boutique law firm, we make sure that every single case we handle and client we represent receives our personal attention. We limit our caseload to ensure our clients feel truly supported at every moment, from start to finish. Your best interests will always be priority – and that is our driving priority. We know that any type of legal matter can be overwhelming. We approach every case with compassion and dedication from start to finish because we know how much may be at stake for you. We bring more than 20 years of combined legal experience to the table, which gives our clients the legal knowledge and insight needed to successfully navigate various legal processes.

Firsthand Experience
as Immigrants

English, Arabic, French,
Russian and Spanish

Proven Track
Record of Success

Personal, One-on-One
Attention​

You Stay Informed
at All Times
We Strive for Client
Satisfaction
Real Clients, Real Testimonials
Professional Associations
Have questions about your rights? Ready to discuss your immigration case? Contact Fayad Law, P.C. now.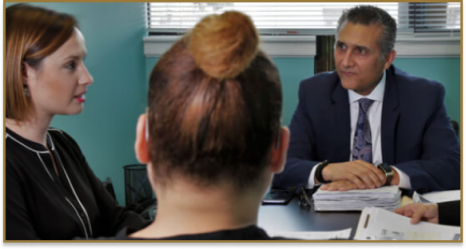 Sign up for the Fayad Law, P.C. Newsletter and get monthly news
straight to your inbox!