Nicaraguan Adjustment and Central American Relief Act
Helping Immigrants Claiming Asylum Under NACARA
Under the Nicaraguan Adjustment and Central American Relief Act (NACARA), the United States Government created certain protections that were used to allow immigrants from certain countries to obtain authorization to live and work in the U.S. with potential pathways to permanent residence and even citizenship. These protections were largely extended to nationals of certain Central American countries that were affected by civil wars (such as Nicaragua, Guatemala and El Salvador), though the protections were also extended to nationals of former Soviet Bloc countries.
The NACARA benefits are extended to foreign nationals who entered the U.S. prior to certain dates in the 1990s (with the specific years varying by country). Since it was enacted, NACARA has also been expanded to include immigration relief for immigrants who have been battered or subject to severe cruelty by their qualified relatives who are U.S. citizens, permanent residents or NACARA beneficiaries.
Using NACARA Relief as a Form of Removal/Deportation Relief
There are many cases in which a foreign national may be able to avoid being removed from the U.S. by obtaining relief under NACARA. At Fayad Law, P.C., we have Virginia immigration attorneys who can help you determine if this is an option that you can benefit from in your deportation case. In order to avoid deportation through NACARA relief, applicants must meet the basic NACARA eligibility requirements and must also show that:
They have been continuously present in the U.S. for seven years or more
They have demonstrated good moral character during that time
They are not removable on the basis of their criminal backgrounds
Their removal would cause extreme hardship to a U.S. citizen or permanent resident who is a spouse, child or parent
They are deserving of the deportation relief
With more than two decades of combined legal experience, our attorneys have a comprehensive knowledge of U.S. immigration law, as well as the most effective ways to avoid 
removal/deportation
. If you need assistance seeking NACARA relief, do not hesitate to 
contact our firm
. We can provide you with the dedicated legal counsel you need for your immigration matter!
Introduction To Fayad Law, P.C.
Have questions about your rights? Ready to discuss your
immigration case? Contact Fayad Law, P.C. now.
What Sets Fayad Law, P.C. Apart?
As a boutique law firm, we make sure that every single case we handle and client we represent receives our personal attention. We limit our caseload to ensure our clients feel truly supported at every moment, from start to finish. Your best interests will always be priority – and that is our driving priority. We know that any type of legal matter can be overwhelming. We approach every case with compassion and dedication from start to finish because we know how much may be at stake for you. We bring more than 20 years of combined legal experience to the table, which gives our clients the legal knowledge and insight needed to successfully navigate various legal processes.

Firsthand Experience
as Immigrants

English, Arabic, French,
Russian and Spanish

Proven Track
Record of Success

Personal, One-on-One
Attention​

You Stay Informed
at All Times
We Strive for Client
Satisfaction
Real Clients, Real Testimonials
Professional Associations
Have questions about your rights? Ready to discuss your immigration case? Contact Fayad Law, P.C. now.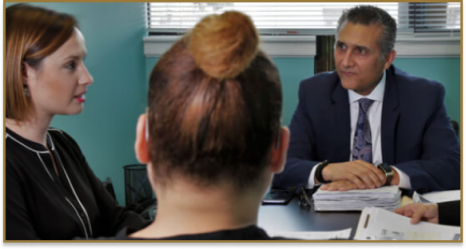 Sign up for the Fayad Law, P.C. Newsletter and get monthly news
straight to your inbox!