Fayad Law, P.C. helps individuals with extraordinary abilities and achievements obtain O visas.
If you have extraordinary abilities and outstanding achievements, you might qualify to come to the United States under an O visa. This nonimmigrant visa allows you to live and work in the country while completing an activity or event. For example, if you are an award-winning director with international acclaim, you can apply for an O visa to direct a movie in the United States. O visas are also open to people who excel in the sciences, business, education, and athletics.
A Richmond O visa attorney can help you with your application and supporting documentation. Contact Fayad Law for more information.  
There are four classifications of O visas. A Richmond O visa lawyer can help you get an:
O-1A visa for people with extraordinary abilities in education, business, science, or athletics

O-1B visa for people with exceptional achievements in the television/film industry or extraordinary abilities in the arts

O-2 visa for people who will accompany an O-1 athlete or artist as assistants

O-3 visa for minor children and spouses of O-1 or O-2 visa recipients
A Richmond O visa lawyer can help individuals and families apply for the visa necessary to come to the United States. 
Why Choose Fayad Law, P.C.
Covers All Aspects of Immigration Law – We help clients with citizenship and naturalization, appeals and bonds, asylum, and other aspects of immigration law.


Multilingual – We are fluent in English, Arabic, French, Russian, and Spanish, allowing us to provide legal services to immigrants from around the world. 


More than 20 Years of Experience – Our experienced legal team understands the immigration system, and we use our legal experience and insight when representing our clients. Our first-hand experience as immigrants also helps our clients navigate the complex immigration system. 


Personal Attention – As a boutique law firm, we limit our caseload to ensure we can provide personal attention to each client that we serve. 


Ethical and Sound Legal Counsel

– Nash Joseph Fayad has a reputation for providing ethical and sound legal counsel and was appointed to serve as Special Counsel to the Commonwealth of Virginia for all immigration matters. 
Ask A Question, Tell Us What Happened or Request a Free Consultation
 or fill out the short form below.
O-1 Visa Application Process
There are numerous steps involved in applying for an O-1 visa. First, the agent or employer must file form I-129. The agent or employer cannot submit this more than a year before the activity or event. Also, the application must include documentation that demonstrates the beneficiary's area of expertise. This can be in the form of a written advisory opinion provided by a peer group or individual. If such an individual or peer group does not exist, other documentation must be provided. 
The applicant also needs to include a contract between the petitioner and the beneficiary and an itinerary of the activity or event. Your Richmond O visa lawyer will help you gather all the documentation and fill out the application.
Once your O visa attorney prepares your application and documentation, he or she will submit it. Then, it can take up to six months to process the visa. If you need your visa faster than that, you can choose premium processing. With this option, the USCIS will review Form I-129 within 15 days. 
At the end of the processing period, the USCIS will issue a decision or ask for more information. You are less likely to have to supply additional documentation if you have a Richmond O visa attorney. An experienced attorney knows how to prepare applications that provide all relevant and necessary information, expediting the process. 
Employer sponsorship is required for obtaining an O visa. A U.S. agent or employer must file a visa application to start the process. You are tied to that agent or employer throughout the duration of the visa. That means that you cannot work for anyone else while you are in the United States. If you would like to have other career opportunities, your Richmond O visa attorney can help you explore getting a green card. With a green card, you will have immigrant instead of nonimmigrant status in the United States.
Duration Of Stay In The United States
O visas are granted to allow recipients to complete a specific activity. Thus, the duration of the visa is set to expire after the event or activity is completed. The initial visa can be granted for up to three years. If the event or activity is not yet completed, you can file for an extension. Extensions are granted by the year. Your Richmond O visa attorney can help you extend your stay if you need more time to complete the event or activity.
What Sets Fayad Law, P.C. Apart?
As a boutique law firm, we make sure that every single case we handle and client we represent receives our personal attention. We limit our caseload to ensure our clients feel truly supported at every moment, from start to finish. Your best interests will always be priority – and that is our driving priority. We know that any type of legal matter can be overwhelming. We approach every case with compassion and dedication from start to finish because we know how much may be at stake for you. We bring more than 20 years of combined legal experience to the table, which gives our clients the legal knowledge and insight needed to successfully navigate various legal processes.

Firsthand Experience
as Immigrants

English, Arabic, French,
Russian and Spanish

Proven Track
Record of Success

Personal, One-on-One
Attention​

You Stay Informed
at All Times
We Strive for Client
Satisfaction
Real Clients, Real Testimonials
Have questions about your rights? Ready to discuss your immigration case? Contact Fayad Law, P.C. now.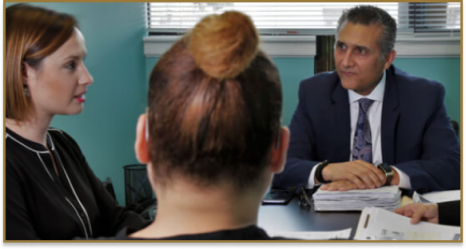 Sign up for the Fayad Law, P.C. Newsletter and get monthly news
straight to your inbox!