We Provide Fast, Effective Service
If you need assistance in applying for a visa to visit the United States, please call our offices and schedule a free consultation where we can answer your questions. Our legal team at Fayad Law, P.C. is extremely adept at obtaining visas for our clients. We can take the guesswork out of applying for any type of visa and all other immigration matters. We have been helping clients from around the world successfully and quickly obtain visas to visit, live and work in the United States since 2004.
Visiting the United States
The visitor visa or B visa is the most common visa granted to aliens entering the United States. This is the visa that is granted for short pleasure visits or limited business visits for most visitors to the U.S. The B visas can be used for business or pleasure and for a wide variety of possible reasons to visit the United States. Under the category of temporary visitor for business, a B1 visa can be used to negotiate and sign contracts, purchase supplies or materials, hold business meetings or attend or exhibit at a convention, settle an estate, take different types of exams and tests held inside the United States, or perform certain professional services. Under the category of temporary visitor for pleasure, a B2 visa can be used to travel within the U.S. and visit family or friends, participate in activities of a fraternal, social, or service nature or to obtain medical treatment.
The main consideration to be aware of when immigration officers grant a period of stay upon arrival is the requirement that you do not appear to be intending to immigrate to the United States. To determine this, officers will look to evidence of homeownership, employment and family or community ties to your home country to establish your intent to return to your home country after visiting the United States.
Contact us today
 to see how we can be of assistance to you, your family, and your business.
Introduction To Fayad Law, P.C.
Have questions about your rights? Ready to discuss your
immigration case? Contact Fayad Law, P.C. now.
What Sets Fayad Law, P.C. Apart?
As a boutique law firm, we make sure that every single case we handle and client we represent receives our personal attention. We limit our caseload to ensure our clients feel truly supported at every moment, from start to finish. Your best interests will always be priority – and that is our driving priority. We know that any type of legal matter can be overwhelming. We approach every case with compassion and dedication from start to finish because we know how much may be at stake for you. We bring more than 20 years of combined legal experience to the table, which gives our clients the legal knowledge and insight needed to successfully navigate various legal processes.

Firsthand Experience
as Immigrants

English, Arabic, French,
Russian and Spanish

Proven Track
Record of Success

Personal, One-on-One
Attention​

You Stay Informed
at All Times
We Strive for Client
Satisfaction
Real Clients, Real Testimonials
Professional Associations
Have questions about your rights? Ready to discuss your immigration case? Contact Fayad Law, P.C. now.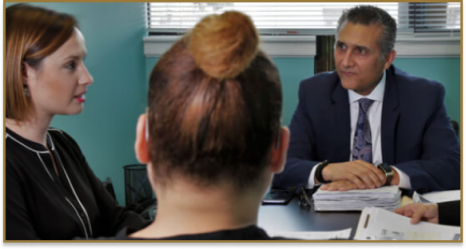 Sign up for the Fayad Law, P.C. Newsletter and get monthly news
straight to your inbox!