Turn to Attorneys Who Have Assisted Countless Clients
The M-1 visa is reserved for those foreign nationals who wish to come study in the United States in an approved vocational, non-academic program such as health care technician, dental hygienists, and machinists to name a few of the most common programs applicants of the M-1 visa are enrolled in. Just as with the F-1 and J-1 visa programs, an applicant must be able to show that they are a bona fide student, prior acceptance into an established vocational program, or another recognized, non-academic program, a proficiency in the English language and evidence of enough financial support to stay in the United States during the duration of the program. You cannot work for profit while on a student visa, and therefore, the Department of Homeland security requires proof that you will have enough financial resources to remain and live in the United States while in school.
Virginia M-1 Visa Assistance: Student Visa Applications
The most common problem with self-filing immigration applications is that the government will not overlook even the smallest error in your application submission package. Delays and denials for applications not prepared to the letter of the rules are common amongst self-filers, which is why we at Fayad Law, P.C. advise you to always consult with a qualified, experienced immigration law attorney in Virginia prior to submitting your application. We have been developing a system of application preparation for years while representing thousands of clients in immigration matters. The power of having an immigration attorney file your application cannot be overstated when it comes to obtaining any visa quickly and efficiently.
We have worked with dozens of schools around the country to ensure the timely handling of all visa application submissions and would be glad to assist you in any way that we can. Contact our offices today for a free consultation over the phone, if you are abroad, or in our offices if you are in the United States and able to visit our firm in Virginia.
Introduction To Fayad Law, P.C.
Have questions about your rights? Ready to discuss your
immigration case? Contact Fayad Law, P.C. now.
What Sets Fayad Law, P.C. Apart?
As a boutique law firm, we make sure that every single case we handle and client we represent receives our personal attention. We limit our caseload to ensure our clients feel truly supported at every moment, from start to finish. Your best interests will always be priority – and that is our driving priority. We know that any type of legal matter can be overwhelming. We approach every case with compassion and dedication from start to finish because we know how much may be at stake for you. We bring more than 20 years of combined legal experience to the table, which gives our clients the legal knowledge and insight needed to successfully navigate various legal processes.

Firsthand Experience
as Immigrants

English, Arabic, French,
Russian and Spanish

Proven Track
Record of Success

Personal, One-on-One
Attention​

You Stay Informed
at All Times
We Strive for Client
Satisfaction
Real Clients, Real Testimonials
Professional Associations
Have questions about your rights? Ready to discuss your immigration case? Contact Fayad Law, P.C. now.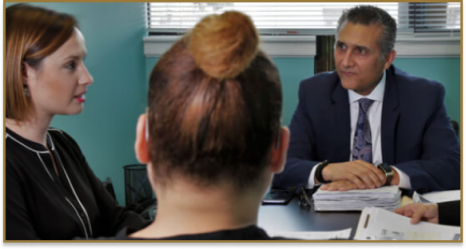 Sign up for the Fayad Law, P.C. Newsletter and get monthly news
straight to your inbox!