Based in USA, Dedicated to International and Domestic Clients
As a foreign diplomat, you are eligible to enter the United States on an A-1 visa. Depending on your reason for visiting the United States, an A-1 visa will be issued to a foreign diplomat for a temporary stay in the country. You must be traveling to the United States on behalf of your national government to engage in activities solely of an official nature for your government. At Fayad Law, P.C. we are experienced in assisting foreign diplomats who travel to the United States for activities in service of their national government. As one of the preeminent 
immigration
 law firms in Virginia, we have helped diplomats traveling to all parts of the country for official government visits. Immediate family members of A-1 eligible visa holders can also obtain derivative visas to accompany their family member to the United States as well.
Diplomats and Family Visas
If you are a foreign diplomat seeking assistance contact our offices so that we may fully advise you of your options and help to prepare your application. The key to successful submission of visa applications is thorough preparation of all forms and attachments and providing a persuasive presentation of your supporting documents in its strongest and most favorable light. The submission of forms and attachments is not enough to satisfy the reviewing officers when submitting an application. The accompanying statement which we include with all filings sets forth the reasons for admission and explains all attachments in order to leave no doubt in the minds of immigration agents reviewing your filing for an A-1 visa. Years of experience and a track record of success has enabled our firm to develop a systematic approach to filing applications with the Department of Homeland Security and the Department of State in all of our immigration cases.
Introduction To Fayad Law, P.C.
Have questions about your rights? Ready to discuss your
immigration case? Contact Fayad Law, P.C. now.
What Sets Fayad Law, P.C. Apart?
As a boutique law firm, we make sure that every single case we handle and client we represent receives our personal attention. We limit our caseload to ensure our clients feel truly supported at every moment, from start to finish. Your best interests will always be priority – and that is our driving priority. We know that any type of legal matter can be overwhelming. We approach every case with compassion and dedication from start to finish because we know how much may be at stake for you. We bring more than 20 years of combined legal experience to the table, which gives our clients the legal knowledge and insight needed to successfully navigate various legal processes.

Firsthand Experience
as Immigrants

English, Arabic, French,
Russian and Spanish

Proven Track
Record of Success

Personal, One-on-One
Attention​

You Stay Informed
at All Times
We Strive for Client
Satisfaction
Real Clients, Real Testimonials
Professional Associations
Have questions about your rights? Ready to discuss your immigration case? Contact Fayad Law, P.C. now.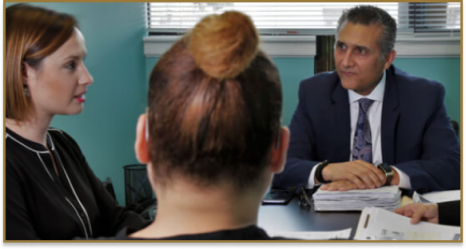 Sign up for the Fayad Law, P.C. Newsletter and get monthly news
straight to your inbox!