Providing Legal Counsel in All Immigration Matters in USA
At Fayad Law, P.C., we have been helping our clients obtain immigration benefits, legal status and visas in all areas of immigration law here in the United States for years. Hundreds of satisfied clients have applied for and received approval for every possible visa category. The decision of which visa to apply for can be a complicated one at times. Some individuals do not fall squarely with a particular category and must argue persuasively with a well-prepared submission package and explanatory statements in order to be approved for visas which do not explicitly mention their field of expertise or labor category.
In cases where a foreign national's field of endeavor does not fall into a pre-defined category of acceptable vocations or professional skill set, the involvement of an experienced immigration attorney is absolutely crucial. Our immigration attorneys excel in preparation and effective persuasive submission packages to the Department of Homeland Security and the Department of State. Our track record in successful visa approvals is well known through the legal community and business community in Virginia and beyond.
Visa Applications in Virginia
No matter what your immigration intentions or needs require, we have the resources and strategy to help you succeed in your submissions. We are fully dedicated to helping people avail themselves of the wonderful opportunities that this country has to offer. Let us help you or your family member avoid the delays and denials that many people receive when attempting to self-file. We have rightfully gained the reputation and respect of our peers in the legal community and our clients for being tenacious, well prepared and leaving no stone unturned when assisting our clients.
Contact our offices
 as soon as possible to discuss your needs and situation with our highly trained immigration law attorneys and staff.
Introduction To Fayad Law, P.C.
Have questions about your rights? Ready to discuss your
immigration case? Contact Fayad Law, P.C. now.
What Sets Fayad Law, P.C. Apart?
As a boutique law firm, we make sure that every single case we handle and client we represent receives our personal attention. We limit our caseload to ensure our clients feel truly supported at every moment, from start to finish. Your best interests will always be priority – and that is our driving priority. We know that any type of legal matter can be overwhelming. We approach every case with compassion and dedication from start to finish because we know how much may be at stake for you. We bring more than 20 years of combined legal experience to the table, which gives our clients the legal knowledge and insight needed to successfully navigate various legal processes.

Firsthand Experience
as Immigrants

English, Arabic, French,
Russian and Spanish

Proven Track
Record of Success

Personal, One-on-One
Attention​

You Stay Informed
at All Times
We Strive for Client
Satisfaction
Real Clients, Real Testimonials
Professional Associations
Have questions about your rights? Ready to discuss your immigration case? Contact Fayad Law, P.C. now.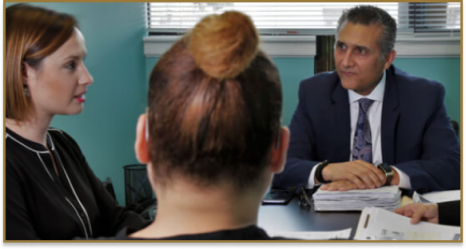 Sign up for the Fayad Law, P.C. Newsletter and get monthly news
straight to your inbox!