Advanced parole refers to a document, an I-512, which is issued to aliens leaving the United States that do not have permanent residency. As such, it is not a re-entry permit. It is permission to re-enter the United States after traveling abroad and is usually issued to those individuals who have a pending application to adjust status to a permanent resident or change their non-immigrant status. Advanced parole is approved and issued before the individual leaves the United States, so in essence, it allows someone to leave the United States and come back while their application is pending.
The Virginia immigration attorneys at Fayad Law, P.C. are committed to assisting individuals with their immigration applications and status and can answer any questions you may have about advanced parole.
Who needs advanced parole?
You need advanced parole if you are an alien in the United States who must travel abroad and
has an asylum application or an application for adjustment of status pending
has been admitted as a refugee or has been granted asylum
has been granted benefits under the family unity program
has been granted TPS
has an emergency personal reason to travel abroad
The process for obtaining advanced parole begins with filing an I-131 application for a travel document with your supporting documentation, photos, and the filing fee.
Advanced Parole Consultations and Information in Virginia
If you have any questions or concerns about traveling with advanced parole, please contact our office for a free consultation. We will be happy to explain the rules relating to traveling with advanced parole, and how it all pertains to your personal immigration status. With over two decades of experience and skill in assisting immigrants and non-immigrants, we are qualified to help in any immigration case.
We are dedicated to helping those people who wish to live and work in the United States, so 
contact us today.
Introduction To Fayad Law, P.C.
Have questions about your rights? Ready to discuss your
immigration case? Contact Fayad Law, P.C. now.
What Sets Fayad Law, P.C. Apart?
As a boutique law firm, we make sure that every single case we handle and client we represent receives our personal attention. We limit our caseload to ensure our clients feel truly supported at every moment, from start to finish. Your best interests will always be priority – and that is our driving priority. We know that any type of legal matter can be overwhelming. We approach every case with compassion and dedication from start to finish because we know how much may be at stake for you. We bring more than 20 years of combined legal experience to the table, which gives our clients the legal knowledge and insight needed to successfully navigate various legal processes.

Firsthand Experience
as Immigrants

English, Arabic, French,
Russian and Spanish

Proven Track
Record of Success

Personal, One-on-One
Attention​

You Stay Informed
at All Times
We Strive for Client
Satisfaction
Real Clients, Real Testimonials
Professional Associations
Have questions about your rights? Ready to discuss your immigration case? Contact Fayad Law, P.C. now.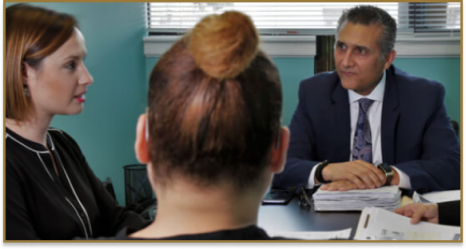 Sign up for the Fayad Law, P.C. Newsletter and get monthly news
straight to your inbox!