Helping Immigrants Resolve Complex Matters in US
Under a K-3 visa, a U.S. citizen can bring his or her foreign spouse to the United States while that spouse's Petition for Alien Relative (Form I-130) is pending. The K-3 visa petition must be filed by the U.S. citizen spouse on behalf of the foreign spouse. This visa gives the foreign spouse authorization to work while he or she is in the United States awaiting action on his or her immigration status. Once the foreign spouse enters the U.S. on a K-3 visa, that individual can immediately apply for adjustment of status to a permanent resident. K-3 visas work to cut down the separation period between U.S. citizens and their spouses who are from other countries.
If you are applying for a K-3 visa in Virginia, you can benefit from the services of our law firm, Fayad Law, P.C. Our Virginia immigration lawyers can guide you through all the necessary paperwork and all other steps for this application process. We want to help you and your spouse complete this process with maximum speed and efficiency so that you can both begin your life together in the U.S. as soon as possible.
Additional Information About K-3 Visas and Adjustment of Status
If the K-3 visa holder has been married to the U.S. citizen for less than two years and he or she successfully obtains an adjustment of status, the foreign spouse's permanent residence must be granted on a conditional basis. In these cases, the married couple will have to file a petition to remove the conditions within 90 days of the foreign spouse's conditional status expiring. Do not hesitate to contact our law firm if you or your foreign spouse is trying to obtain a K-3 visa. Our attorneys bring more than 20 years of collective legal experience to the table!
Introduction To Fayad Law, P.C.
Have questions about your rights? Ready to discuss your
immigration case? Contact Fayad Law, P.C. now.
What Sets Fayad Law, P.C. Apart?
As a boutique law firm, we make sure that every single case we handle and client we represent receives our personal attention. We limit our caseload to ensure our clients feel truly supported at every moment, from start to finish. Your best interests will always be priority – and that is our driving priority. We know that any type of legal matter can be overwhelming. We approach every case with compassion and dedication from start to finish because we know how much may be at stake for you. We bring more than 20 years of combined legal experience to the table, which gives our clients the legal knowledge and insight needed to successfully navigate various legal processes.

Firsthand Experience
as Immigrants

English, Arabic, French,
Russian and Spanish

Proven Track
Record of Success

Personal, One-on-One
Attention​

You Stay Informed
at All Times
We Strive for Client
Satisfaction
Real Clients, Real Testimonials
Professional Associations
Have questions about your rights? Ready to discuss your immigration case? Contact Fayad Law, P.C. now.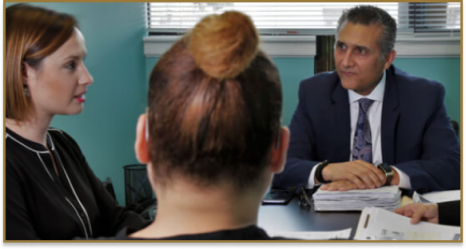 Sign up for the Fayad Law, P.C. Newsletter and get monthly news
straight to your inbox!