Medical Exceptions to Citizenship Test
Medical Exceptions to the Citizenship Test
Citizenship Test Exceptions Explained
When applying for naturalization, an applicant will have to take the English and civics test in order to be granted citizenship. However, in some circumstances, USCIS will waive the requirement in cases of certain medical exceptions. In order to qualify for the medical exception waiver, an applicant must be able to show that they have a physical or developmental disability or some form of mental impairment. In order to get the waiver approved and in place, one needs to have a doctor's certification and have the doctor fill out the required USCIS form.
At Fayad Law, P.C., our Richmond citizenship attorneys are intimately familiar with the requirements and procedures for obtaining a medical exception waiver to the citizenship test. We have been practicing immigration law since 2004 and have successfully guided many naturalization applicants through the medical exception process. If you or a loved one are having issues with USCIS granting a medical exception waiver, or have concerns about taking the English and civics test due to a disability, call our offices today to schedule a free initial evaluation. We will be glad to answer all of your questions and work directly with your doctor and make certain that your request for a medical exception is properly drafted and submitted for a successful outcome.
Immigration Legal Help in Virginia: Medical Exceptions
We are dedicated to assisting people to live and work legally in the United States. Attempting to file your own petition and navigate the immigration process without a qualified and highly experienced immigration attorney can be confusing and wrought with unnecessary delays. Contact us now so we can help with your immigration process and show you how having a skilled and passionate immigration attorney can accelerate and ease the process of getting the medical exception waiver in place.
If you are seeking a Richmond citizenship lawyer for a medical exception waiver, call us at (703) 998-5390 today for professional help.
Introduction To Fayad Law, P.C.
Have questions about your rights? Ready to discuss your
immigration case? Contact Fayad Law, P.C. now.
What Sets Fayad Law, P.C. Apart?
As a boutique law firm, we make sure that every single case we handle and client we represent receives our personal attention. We limit our caseload to ensure our clients feel truly supported at every moment, from start to finish. Your best interests will always be priority – and that is our driving priority. We know that any type of legal matter can be overwhelming. We approach every case with compassion and dedication from start to finish because we know how much may be at stake for you. We bring more than 20 years of combined legal experience to the table, which gives our clients the legal knowledge and insight needed to successfully navigate various legal processes.

Firsthand Experience
as Immigrants

English, Arabic, French,
Russian and Spanish

Proven Track
Record of Success

Personal, One-on-One
Attention​

You Stay Informed
at All Times
We Strive for Client
Satisfaction
Real Clients, Real Testimonials
Professional Associations
Have questions about your rights? Ready to discuss your immigration case? Contact Fayad Law, P.C. now.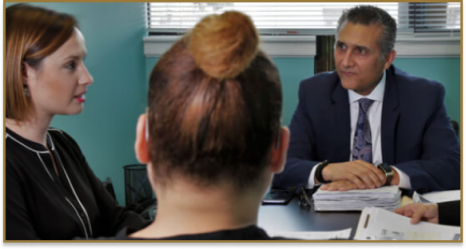 Sign up for the Fayad Law, P.C. Newsletter and get monthly news
straight to your inbox!