Citizenship Through Parents
How to Obtain Citizenship Through Parents
Choose Trusted Family-Based Immigration Lawyers in USA
Obtaining U.S. citizenship through your parents is one of the surest methods of immigrating to the United States. However, there are several different situations that can be present that make the process difficult and confusing. There are various requirements and forms of proof of the parental relationship that must be submitted to the immigration authorities. If both parents were U.S. citizens at the time of birth, or if the parents were married at the time of birth and at least one parent lived in the U.S. or its territories prior to the birth, the process of obtaining a permanent residence status or citizenship is relatively straightforward. However, when a child is born outside of the U.S. to U.S. citizen parent(s), the process can be more complicated, with more extensive requirements in the evidence submitted and other requirements to meet.
Professional Immigration Filings
At the law offices of Fayad Law, P.C., our Richmond family-based immigration attorneys are experienced and very skilled in preparing the filings of children born to one or two U.S. citizen parents. We have helped countless individuals obtain their U.S. citizenship with ease and without delay. The key to avoiding delays and obtaining citizenship through USCIS is often in the form of which petitions are prepared and filed. The detailed explanations of attachments and proper packaging of the petition and its attachments can be the difference between long delays, requests for further information and evidence, and quick approval.
We are always available to receive your call and schedule an appointment that is at a time convenient for you and will fit your busy schedule. If you are outside of the U.S., a telephone consultation can be arranged. Let us use our years of experience and dedication to those seeking citizenship in the U.S. to help you quickly and surely obtain U.S. citizenship without the frustration and delays that commonly occur for most self-filing aliens. Contact us today.
If you have begun the process or are just considering filing for U.S. citizenship through your parents' citizenship, call our offices at (703) 998-5390 today for a free initial consultation.
Introduction To Fayad Law, P.C.
Have questions about your rights? Ready to discuss your
immigration case? Contact Fayad Law, P.C. now.
What Sets Fayad Law, P.C. Apart?
As a boutique law firm, we make sure that every single case we handle and client we represent receives our personal attention. We limit our caseload to ensure our clients feel truly supported at every moment, from start to finish. Your best interests will always be priority – and that is our driving priority. We know that any type of legal matter can be overwhelming. We approach every case with compassion and dedication from start to finish because we know how much may be at stake for you. We bring more than 20 years of combined legal experience to the table, which gives our clients the legal knowledge and insight needed to successfully navigate various legal processes.

Firsthand Experience
as Immigrants

English, Arabic, French,
Russian and Spanish

Proven Track
Record of Success

Personal, One-on-One
Attention​

You Stay Informed
at All Times
We Strive for Client
Satisfaction
Real Clients, Real Testimonials
Professional Associations
Have questions about your rights? Ready to discuss your immigration case? Contact Fayad Law, P.C. now.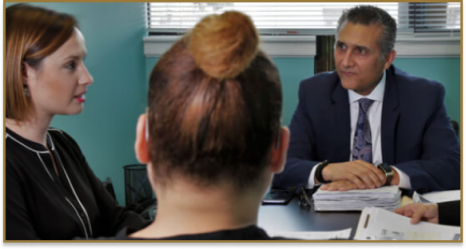 Sign up for the Fayad Law, P.C. Newsletter and get monthly news
straight to your inbox!