Affirmative Asylum Processing
Affirmative Asylum Processing
What is Affirmative Asylum?
The term affirmative asylum refers to the process of applying for asylum before being in removal proceedings or deportation proceedings before an immigration judge. It is the government's preferred method of foreign nationals requesting for asylum protection in the United States. At our law firm, Fayad Law, P.C., we have helped hundreds of asylum seekers gain legal status in the United States over the past 20 years collectively. Our immigration attorneys in Virginia are adept at handling all immigration processes including the affirmative asylum process for those who are eligible for its benefits.
How the Asylum Process Works
Once a foreign national arrives in the United States, they may apply for asylum at their port of entry no matter what their immigration status may be. The application for asylum must be filed within one year of the individual's arrival in the United States unless there were changed circumstances or extraordinary circumstances which delayed their application filing. At that point, after filing, the individual will be scheduled for fingerprinting and a background check will be conducted by the FBI and CIA.
Once that is completed, the individual applicant will receive an interview notice for an interview with an asylum officer at one of the eight asylum offices or a district office, depending upon the applicant's residence in the United States. Usually, the applicant will have to return to that office within about two weeks to receive the decision on the application. If the applicant is approved, they can remain in the United States in legal status and can apply for permanent residency one year after the grant of asylum.
Call an experienced immigration attorney!
If you or someone you know is seeking asylum in the United States, please contact us as soon as possible so that we can begin working on your application. We offer a free consultation, which is confidential and in private, for those seeking asylum or information about asylum or any other immigration benefit. Please, do not hesitate to call us, even if you are concerned about anonymity or privacy.
Whether you are seeking asylum for yourself or are hoping to assist a loved one in claiming refugee status, we urge you to contact our office now for an initial consultation and to get the process started. Our services are available in English, Arabic, French, Spanish, and Russian.
Introduction To Fayad Law, P.C.
Have questions about your rights? Ready to discuss your
immigration case? Contact Fayad Law, P.C. now.
What Sets Fayad Law, P.C. Apart?
As a boutique law firm, we make sure that every single case we handle and client we represent receives our personal attention. We limit our caseload to ensure our clients feel truly supported at every moment, from start to finish. Your best interests will always be priority – and that is our driving priority. We know that any type of legal matter can be overwhelming. We approach every case with compassion and dedication from start to finish because we know how much may be at stake for you. We bring more than 20 years of combined legal experience to the table, which gives our clients the legal knowledge and insight needed to successfully navigate various legal processes.

Firsthand Experience
as Immigrants

English, Arabic, French,
Russian and Spanish

Proven Track
Record of Success

Personal, One-on-One
Attention​

You Stay Informed
at All Times
We Strive for Client
Satisfaction
Real Clients, Real Testimonials
Professional Associations
Have questions about your rights? Ready to discuss your immigration case? Contact Fayad Law, P.C. now.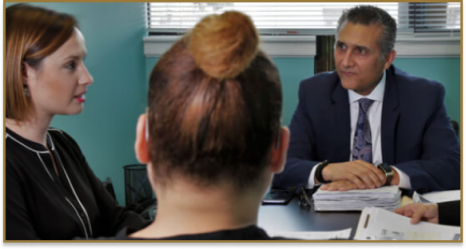 Sign up for the Fayad Law, P.C. Newsletter and get monthly news
straight to your inbox!