Cases heard by the Immigration Court
Immigration Attorneys Experienced in Removal Defense and Representation before EOIR Courts and the BIA
The Immigration Court in the United States is a component of the Executive Office for Immigration Review (EOIR) under the United States Department of Justice and hears mostly cases involving removal or deportation. It is overseen by the Office of the Chief Immigration Judge who is responsible for the administration of the immigration courts nationwide. The court adjudicates applications for relief from removal and removability. Their decisions are final unless appealed or certified to the Board of Immigration Appeals. If you have been served a notice requiring your presence before an immigration judge, you should absolutely be represented by an experienced and qualified Virginia immigration lawyer such as one of those at our firm, Fayad Law, P.C.
Defenses to Deportation and Removal
The legal complexity and technicalities that are dealt with in removal and deportation cases can be overwhelming for those lawyers who do not practice immigration law on a day to day basis. The likelihood of prevailing in an immigration case before the immigration court is increased greatly when you hire a skilled immigration lawyer with a track record of success. Your case may involve such defenses as credible fear and reasonable fear determinations, asylum, withholding of removal, protection under the Convention Against Torture, cancellation of removal, adjustment of status, and other waivers of inadmissibility.
A knowledgeable immigration attorney who is adept at crafting arguments and is versed in the law can afford you the peace of mind that you have made the right decision and given yourself every possible chance to overcome an order of removal or deportation. Contact our offices today and schedule your free consultation with one of our highly trained and dedicated Virginia based immigration attorneys. If you have a case scheduled before an immigration judge soon and fear it may be too late to hire an attorney, you are most likely mistaken.
We can usually get a continuance for the preparation of your case. Don't hesitate to call before it is too late. 
Contact us now
Introduction To Fayad Law, P.C.
Have questions about your rights? Ready to discuss your
immigration case? Contact Fayad Law, P.C. now.
What Sets Fayad Law, P.C. Apart?
As a boutique law firm, we make sure that every single case we handle and client we represent receives our personal attention. We limit our caseload to ensure our clients feel truly supported at every moment, from start to finish. Your best interests will always be priority – and that is our driving priority. We know that any type of legal matter can be overwhelming. We approach every case with compassion and dedication from start to finish because we know how much may be at stake for you. We bring more than 20 years of combined legal experience to the table, which gives our clients the legal knowledge and insight needed to successfully navigate various legal processes.

Firsthand Experience
as Immigrants

English, Arabic, French,
Russian and Spanish

Proven Track
Record of Success

Personal, One-on-One
Attention​

You Stay Informed
at All Times
We Strive for Client
Satisfaction
Real Clients, Real Testimonials
Professional Associations
Have questions about your rights? Ready to discuss your immigration case? Contact Fayad Law, P.C. now.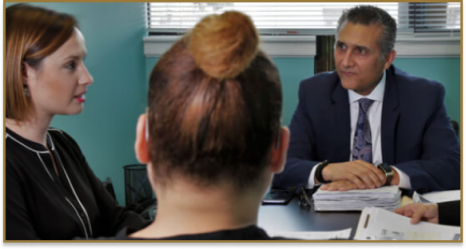 Sign up for the Fayad Law, P.C. Newsletter and get monthly news
straight to your inbox!