Le ayudamos a alcanzar su sueño americano
Nuestro bufete se ha ganado una gran reputación por brindar una excelente atención al cliente. De hecho, debido a su dedicación al proporcionar un asesoramiento legal ético y sólido, el Licenciado Fayad ha sido nombrado por la Oficina de Procuraduría General Mark Herring como Asesor especial de asuntos de inmigración del estado de Virginia. Este nivel de diligencia y mucho más es lo que puede esperar de nuestro bufete.
   Employment Immigration
   Family Immigration
   Citizenship & Naturalization
   Removal & Deportation Defense
   Criminal Defense & Immigration
   Appeals & Bonds
Contácte a Fayad Law P.C. hoy mismo.
¿Qué diferencia a Fayad Law P.C.?
Como un bufete estilo boutique, nos aseguramos de que cada caso que tratamos y cada cliente que representamos reciba nuestra atención a un nivel personalizado. Limitamos nuestro número de casos para garantizar que nuestros clientes se sientan completamente apoyados en todo momento, de principio a fin. Sus intereses serán siempre nuestra prioridad y ese es nuestro principal impulso. Sabemos perfectamente que cualquier tipo de asunto legal puede ser abrumador. Abordamos cada caso de principio a fin con empatía y dedicación, ya que estamos conscientes de lo que puede estar en juego. Contamos con más de 20 años de experiencia legal, lo que le da a nuestros clientes el conocimiento legal y la visión necesaria para manejar con éxito diversos procesos legales.



· Experiencia directa como inmigrantes

Atención en: Inglés, Árabe, Francés, Ruso y Español

· Historial comprobado de éxito

Atención personalizada, uno a uno

Satisfacción del cliente - garantizada
Real Clients, Real Testimonials
Soluciones legales innovadoras en materia de inmigración
Professional Associations
Have questions about your rights? Ready to discuss your immigration case? contacto Fayad Law, P.C. now.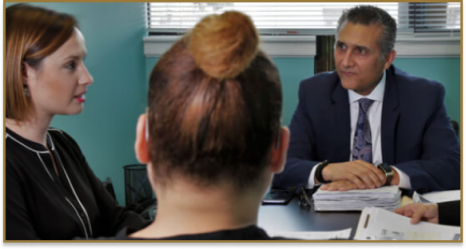 Suscríbase a la revista de Fayad Law y reciba noticias mensuales directamente en su bandeja de entrada
8501 Mayland Dr.
Suite 101,
Richmond, VA 23294
8315 Lee Highway
Suite 620,
Fairfax, VA 22031