Provisional Waiver Article
GET THE LEGAL HELP YOU NEED
NOTICIA DE INMIGRACION: LA EXENCION PROVISIONAL
El año nuevo trae nuevas oportunidades para muchos en la comunidad de inmigrantes. En el 2 de enero de 2013, la Secretaria del departamento de seguridad nacional (DHS) Janet Napolitano anunció la regla final para la Exención Provisional largamente esperado. El servicio de ciudadanía e inmigración (USCIS, por sus siglas en Ingles) va a empezar de aceptar las aplicaciones de exención el 4 de marzo de 2013.
La regla establece un procedimiento que permite que ciertos individuos a aplicar para una exención provisional de presencia ilegal antes de que salga de los Estados Unidos para asistir a entrevistas de visa de inmigrante en sus países de origen. Esta regla tiene el intento a apoyar a la unidad de la familia durante el proceso de exención por reducir considerablemente el tiempo que los miembros de la familia están separados mientras que uno asiste a su entrevista para visa de inmigrante en el exterior.
Los solicitantes elegibles para la exención provisional incluyen aquellos que cumplan los siguientes criterios:
Presente físicamente en los Estados Unidos;
Al menos 17 años de edad en el momento de la presentación;
Beneficiario de una petición de visa de inmigrante aprobado clasificándolos como familia inmediato de un ciudadano de los Estados Unidos;
Tener un caso de visa de inmigrante pendiente con el Departamento del Estado;
Sólo es sujeto a la inadmisibilidad para la acumulación de la presencia ilegal en los Estados Unidos y ninguna otra razón; y
Demostrar que su cónyuge, padre o madre iba a sufrir dificultades extremas si su admisión a los EEUU seria rechazado.
Esperamos que esta regla pueda ayudar a muchas familias para finalizar el proceso de residencia para los queridos. Este nuevo proceso es una buena noticia para muchos, pero el proceso es complejo y recomendamos que consulte con un abogado de inmigración calificado.
Si desea información adicional acerca de este proceso y/o saber si usted tiene un caso potencial, llame a nuestra oficina para hablar con uno de nuestros abogados.
Tamar Jones, Esq.
Fayad Law, P.C.
(804)249-4747
Introduction To Fayad Law, P.C.
Have questions about your rights? Ready to discuss your
immigration case? Contact Fayad Law, P.C. now.
What Sets Fayad Law, P.C. Apart?
As a boutique law firm, we make sure that every single case we handle and client we represent receives our personal attention. We limit our caseload to ensure our clients feel truly supported at every moment, from start to finish. Your best interests will always be priority – and that is our driving priority. We know that any type of legal matter can be overwhelming. We approach every case with compassion and dedication from start to finish because we know how much may be at stake for you. We bring more than 20 years of combined legal experience to the table, which gives our clients the legal knowledge and insight needed to successfully navigate various legal processes.

Firsthand Experience
as Immigrants

English, Arabic, French,
Russian and Spanish

Proven Track
Record of Success

Personal, One-on-One
Attention​

You Stay Informed
at All Times
We Strive for Client
Satisfaction
Real Clients, Real Testimonials
Professional Associations
Have questions about your rights? Ready to discuss your immigration case? Contact Fayad Law, P.C. now.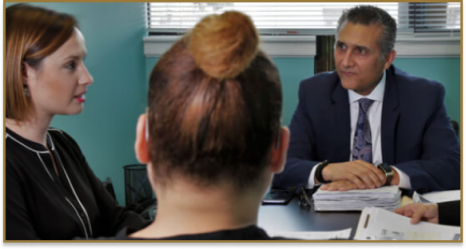 Sign up for the Fayad Law, P.C. Newsletter and get monthly news
straight to your inbox!