Un evento con temas variados – Gran participación de la comunidad inmigrante
GET THE LEGAL HELP YOU NEED
Un evento con temas variados – Gran participación de la comunidad inmigrante
18 de junio de 2014
El sábado 14 de junio se llevó a cabo en la ciudad de Martinsville, ubicada en Henry County, un evento de gran importancia sobre el tema de la reforma migratoria y todo lo conlleva para los jóvenes que llegaron al país desde pequeños.
Eli Salgado un joven líder de la comunidad hispana, fue el organizador del evento donde el abogado de la ciudad de Richmond, Nash Fayad habló ampliamente sobre varios temas que conciernen a todos los que aspiran a tener un estatus migratorio en los Estados Unidos. Los temas tratados fueron; La Discreción del Fiscal (Prosecutorial Discretion), DACA en Virginia, La exención provisional (Provisional Waiver) el TPS Estatus de protección temporal (Temporary Protected Status) y Ciudadanía y naturalización.
Lesly Pineda, habló detalladamente sobre todo el proceso de DACA, que va enfocado a los menores que llegaron a EE. UU., a corta edad y pueden ahora tener un permiso de trabajo y la posibilidad de estudiar a cosotos razonables creándoles una oportunidad en la vida.
El representante del Patrick Henry Community College, Travis Tislade, habló sobre como inscribirse en este tipo de instituciones. También participó Debbie Hemmrick del Franlin County explicando el tema del GED en español.
Daniel Rodríguez representante de las escuelas publicas del Henry County, cuya intervención estaba dirigida especialmente a los padres, hablo sobre como motivar y apoyar a sus hijos para que asistan a la universidad.
Otras intervenciones estuvieron a cargo de Alfredo García representante de PHCC Running Club y Mary Ann Tucker de H.O.P.E Seekers sobre el tema de las enfermedades mentales.
Sheila Villalobos, una dinámica joven de padres mexicanos graduada en VCU, se encargó de la traducción de los temas que fueron presentados en ingles por el abogado Fayad.
Una agenda variada y una buena asistencia fueron las características del nutrido evento, que muestra como los jóvenes que tienen liderazgo, pueden llegar lejos en los Estados Unidos.
Eli Salgado también ha organizado el Festival Latino de su ciudad y tiene un grupo de trabajo para los Dreamers en la red social Facebook. Si usted esta interesado en contactar a este grupo aquí encuentra el enlace para lograrlo.
Introduction To Fayad Law, P.C.
Have questions about your rights? Ready to discuss your
immigration case? Contact Fayad Law, P.C. now.
What Sets Fayad Law, P.C. Apart?
As a boutique law firm, we make sure that every single case we handle and client we represent receives our personal attention. We limit our caseload to ensure our clients feel truly supported at every moment, from start to finish. Your best interests will always be priority – and that is our driving priority. We know that any type of legal matter can be overwhelming. We approach every case with compassion and dedication from start to finish because we know how much may be at stake for you. We bring more than 20 years of combined legal experience to the table, which gives our clients the legal knowledge and insight needed to successfully navigate various legal processes.

Firsthand Experience
as Immigrants

English, Arabic, French,
Russian and Spanish

Proven Track
Record of Success

Personal, One-on-One
Attention​

You Stay Informed
at All Times
We Strive for Client
Satisfaction
Real Clients, Real Testimonials
Professional Associations
Have questions about your rights? Ready to discuss your immigration case? Contact Fayad Law, P.C. now.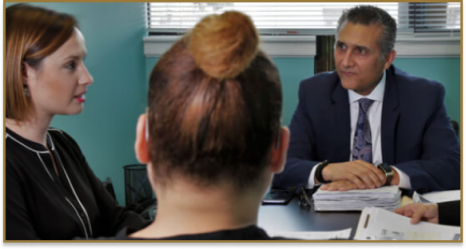 Sign up for the Fayad Law, P.C. Newsletter and get monthly news
straight to your inbox!