GET THE LEGAL HELP YOU NEED
Latinos News / 19 febrero, 2014
Hace unos días uno de mis clientes , que tiene una solicitud pendiente con el Servicio de Ciudadanía y de Inmigración (USCIS), apareció a mi oficina para decirme que , recientemente, su negocio fue allanado por la policía y fue acusado de 2 delitos . Cuando le pregunté qué había pasado empezó a explicarme su problema en términos muy generales. Me aseguró que no había nada serio sobre estos cargos y lo más importante que su abogado de defensa criminal le dijo que su caso en breve será desestimado. En ese momento todo lo que mi cliente quería era que le reprogramara su cita con el USCIS para un par de meses a la espera de la "desestimación " final sobre su caso .

En mi experiencia, cada vez que un cliente me habla con tal facilidad sobre su caso criminal empiezo a sospechar acerca de la gravedad del caso y de que tan bien informado está sobre su su propio caso. Como descubrí más tarde, este caso no fue una excepción . Después de que terminó de explicarme su situación , le aconsejé a mi cliente que era mejor si yo pudiera hablar con su abogado de defensa criminal y obtener los hechos jurídicos directamente de él . Después de recibir su consentimiento, llamé inmediatamente al abogado y le dejé un mensaje

1 día o 2 más tarde, el abogado de defensa criminal me devolvió la llamada, y como esperaba el caso era mucho más grave de lo que mi cliente me lo describió y no habían tenido ninguna conversación sobre un posible sobreseimiento de la causa.

Esta es una situación típica, que los abogados como yo encontramos con mucha frecuencia. Las personas buscan ayuda con problemas graves, sin embargo, cuando se trata de describir el problema, muchas veces no revelan detalles importantes acerca de sus problemas, lo que hace que sea difícil para los abogados darles el asesoramiento adecuado, o para obtener los mejores resultados para ellos.

Los abogados, como los médicos, psicólogos y representantes de otras profesiones están en el negocio de la solución de problemas . Y para que un profesional pueda resolver el problema de alguien, él o ella debe narrar todos los hechos; pequeños y grandes, directos e indirectos, asi podemos tener una visión completa del problema. Una instantánea no es suficiente para resolver un problema legal. Detalles, detalles detalles. En otras palabras, el cliente tiene que ayudarme para ser capaz de ayudarle. ¡Tiene que ayudarme con los hechos en orden para que le ayude a solucionar su problema .

Mi observación de este asunto me lleva a identificar tres razones principales por las que algunos solicitantes de ayuda legal pueden dejar algunos datos no revelados.

La primera razón es puramente cultural. La inmigración es un área del derecho que se ocupa principalmente de los extranjeros. Muchos de los cuales vienen con una comprensión diferente de la relación abogado/cliente y una comprensión diferente de lo que constituye un factor importante en un caso y lo que no lo es.

En los Estados Unidos la relación abogado cliente es muy confidencial , Hay muy pocas excepciones a la confidencialidad . Un abogado puede ser sancionado si la información de su cliente se filtra desde su oficina. Este es uno de los principios más importantes del sistema legal de los EE.UU..

Además, los hechos más pequeños de una historia pueden tener un impacto enorme en el caso de una persona. Una persona que busca la ayuda de un abogado la ayuda en un caso, no debería estar preocupado por la divulgación de todos los hechos y él o ella deben dejar que el abogado decida cuales hechos son importantes y cuáles no lo son.

La segunda razón es algo psicológico. Muchas personas que buscan ayuda legal no dan a conocer al abogado toda la verdad , simplemente porque tienen miedo de que el abogado encuentre el caso tan complicado que se niegue a aceptarlo. Este mito es compartida por mucha gente, sobre todo en los círculos de inmigrantes.

Para los abogados, no hay casos pequeños o grandes. Si una persona está en la necesidad de asistencia legal debe contratar un abogado para tratar de resolver su problema. Ya sea simple o complicada, siempre hay un abogado por ahí que está preparado para ese desafío. Y debe escoger el abogado que está dispuesto a luchar por usted, no importa lo complicado de su situación. Ocultar partes del problema no es una buena idea.

La tercera razón se debe a la falta de comunicación con el abogado. Este es un problema muy serio y lo encuentro a menudo cuando alguien me busca para representarlo después de que esta persona ha estado trabajando con otro abogado. Si desea reemplazar a su abogado o trabajar en paralelo con el fiscal en un aspecto diferente del caso. Cada vez que comienzo a hablar con algunos posibles clientes acerca de los hechos de su caso , a menudo no pueden describir los hechos básicos.

Aunque, es importante decirle a su abogado todos los hechos, también es importante recibir toda la información del caso de parte de su abogado. Usted tiene la obligación de informar a su abogado sobre los hechos y su abogado tiene el deber de mantenerlo informado acerca de lo que esta pasando con su caso. La comunicación con el gobierno, o con la otra parte, las medidas adoptadas para resolver su caso, lo relevante de su defensa o lo que se está buscando en su nombre y muchas otras cosas relacionadas con el caso.

La resolución de los problemas legales son como un buen tango . Se requiere una sincronización perfecta entre dos bailarines. Uno conduce y el otro lo sigue. Uno transmite los movimientos y el otro los transforma en una hermosa pieza de baile.

Cuando usted busque la ayuda de un abogado , no dude en darle todos los hechos de su caso, pero también , no sea tímido para pedir lo que él o ella está haciendo con su caso.
Nash J. Fayad , Ph.D.
Abogado y Consejero en la Ley
Ley Fayad , P.C.
(703) 998-5390
fayadlaw.com
Introduction To Fayad Law, P.C.
Have questions about your rights? Ready to discuss your
immigration case? Contact Fayad Law, P.C. now.
What Sets Fayad Law, P.C. Apart?
As a boutique law firm, we make sure that every single case we handle and client we represent receives our personal attention. We limit our caseload to ensure our clients feel truly supported at every moment, from start to finish. Your best interests will always be priority – and that is our driving priority. We know that any type of legal matter can be overwhelming. We approach every case with compassion and dedication from start to finish because we know how much may be at stake for you. We bring more than 20 years of combined legal experience to the table, which gives our clients the legal knowledge and insight needed to successfully navigate various legal processes.

Firsthand Experience
as Immigrants

English, Arabic, French,
Russian and Spanish

Proven Track
Record of Success

Personal, One-on-One
Attention​

You Stay Informed
at All Times
We Strive for Client
Satisfaction
Real Clients, Real Testimonials
Professional Associations
Have questions about your rights? Ready to discuss your immigration case? Contact Fayad Law, P.C. now.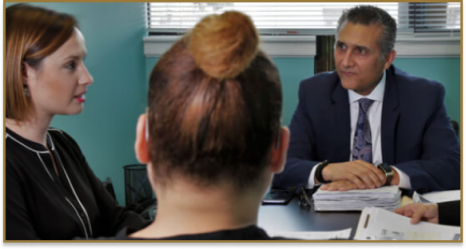 Sign up for the Fayad Law, P.C. Newsletter and get monthly news
straight to your inbox!