Temporary Protected Status (TPS)
Temporary Protected Status (TPS) Lawyers
Our Lawyers Explain the Special Protection for Foreign Nationals
When another country or part of a country becomes subject to extremely dangerous conditions, such as warfare that places its citizens' lives in danger, the United States may grant Temporary Protected Status (TPS) to that country. Foreign nationals from that country can then secure temporary removal/deportation relief as TPS beneficiaries. TPS beneficiaries can be individuals who are actual nationals of the protected country, or they can be individuals who last maintained a permanent residence in that country. Once foreign nationals are recognized as TPS beneficiaries, they cannot be detained by ICE for immigration status reasons or deported from the U.S. for a certain period of time. The U.S. government must also grant these individuals employment authorization documents (EADs) and authorization to travel.
Here are some of the various situations that may result in TPS being granted, according to U.S. Citizenship and Immigration Services (USCIS):
The country is subject to armed conflict that is ongoing, such when there is civil war.
The country has been struck by a natural disaster, such as a major hurricane.
The country is undergoing a serious epidemic.
There are other extreme yet temporary conditions that are affecting the country.
It should be noted that being recognized as a TPS beneficiary does not give a foreign national the status of a lawful permanent resident, nor does it provide asylum status. If the foreign national would like to obtain either of these statuses, he or she will have to fill out the appropriate applications. For a list of the countries that have been granted TPS, click here.
Assistance from a Knowledgeable Virginia Immigration Attorney
A Virginia immigration lawyer from Fayad Law, P.C. can provide you with effective legal guidance considering your options for claiming protection as a TPS beneficiary. If you are eligible for this type of protection, we can assist you with each step of the legal process. We represent foreign nationals who are dealing with all types of removal/deportation defense issues, as well as other immigration law issues.
Introduction To Fayad Law, P.C.
Have questions about your rights? Ready to discuss your
immigration case? Contact Fayad Law, P.C. now.
What Sets Fayad Law, P.C. Apart?
As a boutique law firm, we make sure that every single case we handle and client we represent receives our personal attention. We limit our caseload to ensure our clients feel truly supported at every moment, from start to finish. Your best interests will always be priority – and that is our driving priority. We know that any type of legal matter can be overwhelming. We approach every case with compassion and dedication from start to finish because we know how much may be at stake for you. We bring more than 20 years of combined legal experience to the table, which gives our clients the legal knowledge and insight needed to successfully navigate various legal processes.

Firsthand Experience
as Immigrants

English, Arabic, French,
Russian and Spanish

Proven Track
Record of Success

Personal, One-on-One
Attention​

You Stay Informed
at All Times
We Strive for Client
Satisfaction
Real Clients, Real Testimonials
Professional Associations
Have questions about your rights? Ready to discuss your immigration case? Contact Fayad Law, P.C. now.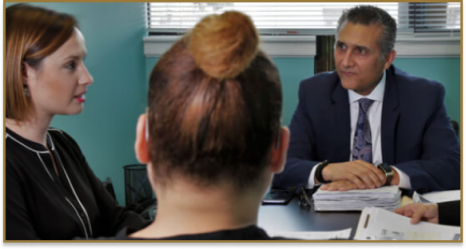 Sign up for the Fayad Law, P.C. Newsletter and get monthly news
straight to your inbox!