Cancellation of Removal for LPR
Cancellation of Removal Attorney
Helping Lawful Permanent Residents in USA
There are many lawful permanent residents (LPRs) who are forced to leave the United States because of criminal convictions or guilty pleas to crimes that make them inadmissible or deportable. Fortunately, many LPRs qualify for a form of removal/deportation relief that is known as cancellation of removal for lawful permanent residents. This type of relief is extended to LPRs, or green card holders, who have been in the U.S. for a certain amount of time and whose criminal offenses are considered to be more minor. In order to qualify for this type of relief, the immigrant must meet a number of qualifications, file an Application for Cancellation of Removal for Certain Permanent Residents (Form EOIR-42A), and convince an immigration judge that such relief is deserved.
Permanent residents who are applying for cancellation of removal should not try to complete this process on their own, as simple mistakes can end up ruining their ability to remain in the U.S. Instead, they should consult with a knowledgeable attorney who can properly guide them through the application process and effectively present their cases to the immigration judge. At Fayad Law, P.C., we have Virginia immigration lawyers who provide high-quality legal counsel for all types of immigration law matters, including those involving cancellation or removal for LPRs.
Eligibility for Cancellation of Removal
In order to qualify for the cancelation of removal, LPRs must meet the following criteria:
Must have been a permanent resident for five years or more
Must have been lawfully admitted into the U.S. and continuously resided in this country for seven years or more prior to receiving a Notice to Appear, or prior to committing the crime that led to the removal proceedings
Was not convicted of an aggravated felony
There are also various factors that can make LPRs ineligible for cancellation of removal. It is best to consult with an attorney to determine whether or not you are eligible for this type of deportation relief. It is important to note that the burden of proof lies with the applicant when it comes to proving eligibility for cancellation of removal. Make sure you have the appropriate legal support when you are working to prove that you deserve a second chance to stay in the United States.
Introduction To Fayad Law, P.C.
Have questions about your rights? Ready to discuss your
immigration case? Contact Fayad Law, P.C. now.
What Sets Fayad Law, P.C. Apart?
As a boutique law firm, we make sure that every single case we handle and client we represent receives our personal attention. We limit our caseload to ensure our clients feel truly supported at every moment, from start to finish. Your best interests will always be priority – and that is our driving priority. We know that any type of legal matter can be overwhelming. We approach every case with compassion and dedication from start to finish because we know how much may be at stake for you. We bring more than 20 years of combined legal experience to the table, which gives our clients the legal knowledge and insight needed to successfully navigate various legal processes.

Firsthand Experience
as Immigrants

English, Arabic, French,
Russian and Spanish

Proven Track
Record of Success

Personal, One-on-One
Attention​

You Stay Informed
at All Times
We Strive for Client
Satisfaction
Real Clients, Real Testimonials
Professional Associations
Have questions about your rights? Ready to discuss your immigration case? Contact Fayad Law, P.C. now.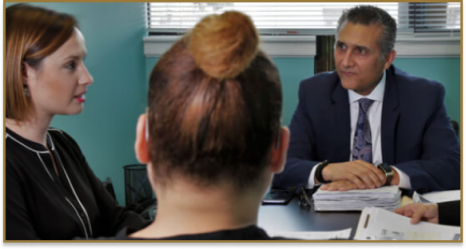 Sign up for the Fayad Law, P.C. Newsletter and get monthly news
straight to your inbox!