Need help getting a TN Visa? Call Our Law Firm (703) 998-5390.
Under the North American Free Trade Act, or "NAFTA," citizens of Canada and Mexico have a clear route to obtaining a visa to live and work in the United States temporarily. The NAFTA program makes it possible for U.S., Canadian and Mexican citizens to work in each other's countries in the capacity of certain professional occupations. It is similar to the H-1B visa, with some other additional unique features. The TN set of occupations authorize an American, Canadian or Mexican to work for up to three years at a time and the TN status is renewable indefinitely for three-year periods.
This does not mean that it is necessarily a permanent visa. If U.S. immigration officials suspect the TN visa is actually being used as a replacement for a green card, it could lead to a denial of further renewals. The set of occupations granted TN status is more limited than the set for an H-1B visa and is a good option for those who don't quite fit into H-1B eligibility. Of course, TN visas are also granted for the children and spouses of those visiting workers with a TN visa.
NAFTA Visas: TN Visa Attorney in Virginia
The immigration attorneys at Fayad Law, P.C. have helped hundreds of clients over the years obtain their TN visas, and subsequent renewals. If you are seeking assistance with an initial filing, a renewal, or just have questions regarding TN visas or any other immigration matter, please contact our offices today and schedule a free initial consultation. As members of the American Immigration Lawyers' Association, we are always up to date on rule and procedure updates which can save months of delay when working with USCIS in applying for an immigration benefit. We have been practicing immigration law and helping our clients since 2004.
Introduction To Fayad Law, P.C.
Have questions about your rights? Ready to discuss your
immigration case? Contact Fayad Law, P.C. now.
What Sets Fayad Law, P.C. Apart?
As a boutique law firm, we make sure that every single case we handle and client we represent receives our personal attention. We limit our caseload to ensure our clients feel truly supported at every moment, from start to finish. Your best interests will always be priority – and that is our driving priority. We know that any type of legal matter can be overwhelming. We approach every case with compassion and dedication from start to finish because we know how much may be at stake for you. We bring more than 20 years of combined legal experience to the table, which gives our clients the legal knowledge and insight needed to successfully navigate various legal processes.

Firsthand Experience
as Immigrants

English, Arabic, French,
Russian and Spanish

Proven Track
Record of Success

Personal, One-on-One
Attention​

You Stay Informed
at All Times
We Strive for Client
Satisfaction
Real Clients, Real Testimonials
Professional Associations
Have questions about your rights? Ready to discuss your immigration case? Contact Fayad Law, P.C. now.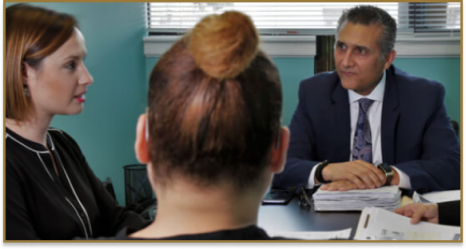 Sign up for the Fayad Law, P.C. Newsletter and get monthly news
straight to your inbox!