Backed by 20 Years of Collective Experience
The P visa is a temporary employment visa granted to aliens who are athletes, artists and entertainers and their spouses and children who accompany them to the United States. P-1 applies to individual or team athletes, or members of an entertainment group (P-1B) that are internationally recognized by certain criteria set forth by the Department of Homeland Security and USCIS. A maximum of 25,000 P visas are issued annually. The P-2 applies to artists or entertainers who will perform under a reciprocal exchange program. P-3 applies to artists or entertainers who perform under a program that is culturally unique. P-4 is for the spouse, or child under the age of 21, of a P-1, P-2, or P-3 alien who is accompanying, or following to join, the alien.
Artist and Athlete Visas in Virginia
At Fayad Law, P.C., we are focused strictly upon immigration law. We have helped hundreds of clients in Virginia seek and obtain approval for all types of petitions and visas, including the P visa and its derivatives. We are always available by phone, 24 hours a day, 7 days a week to answer your questions and arrange a convenient time for you to meet personally with one of our highly qualified and experienced Virginia immigration law attorneys.
We understand the time-sensitive nature of obtaining P visas for entertainers and professional athletes. If you are seeking an immigration lawyer to obtain approval for your team's athletes, individual athletes, performers or performing troupes, please contact us and see for yourself why we have been growing each year since 2004 as one of Virginia's preeminent and most trusted immigration law firms. Our pricing is extremely competitive, and we will work with you in every way possible to successfully obtain your visa approval in time for the athlete or performer to enter the United States and fulfill their business obligations.
If you are seeking for a Virginia immigration law firm to effectively and quickly get approval for your P visa, 
contact our offices
 as soon as possible to schedule a free initial consultation.
Introduction To Fayad Law, P.C.
Have questions about your rights? Ready to discuss your
immigration case? Contact Fayad Law, P.C. now.
What Sets Fayad Law, P.C. Apart?
As a boutique law firm, we make sure that every single case we handle and client we represent receives our personal attention. We limit our caseload to ensure our clients feel truly supported at every moment, from start to finish. Your best interests will always be priority – and that is our driving priority. We know that any type of legal matter can be overwhelming. We approach every case with compassion and dedication from start to finish because we know how much may be at stake for you. We bring more than 20 years of combined legal experience to the table, which gives our clients the legal knowledge and insight needed to successfully navigate various legal processes.

Firsthand Experience
as Immigrants

English, Arabic, French,
Russian and Spanish

Proven Track
Record of Success

Personal, One-on-One
Attention​

You Stay Informed
at All Times
We Strive for Client
Satisfaction
Real Clients, Real Testimonials
Professional Associations
Have questions about your rights? Ready to discuss your immigration case? Contact Fayad Law, P.C. now.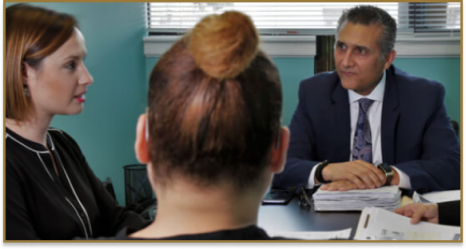 Sign up for the Fayad Law, P.C. Newsletter and get monthly news
straight to your inbox!