Fayad Law, P.C. helps specialized workers, managers, and executives come to the United States with L-1 visas.
Do you work at a company that also has offices in the United States? You might prefer to work in the United States, and you can do that with an L-1 visa. This nonimmigrant visa will allow you to relocate to the U.S. for a set period of time. If you are a manager or executive, you can receive an L-1A visa, while specialized workers are eligible for L-1B visas.
A Richmond L-1 visa lawyer from Fayad Law, P.C. can help you with the entire process, from gathering the documentation to preparing the paperwork. The team at Fayad Law, P.C. has more than two decades of combined experience and can help you navigate the complex visa process.
Eligibility Requirements for an L-1 Visa
You must meet the eligibility requirements to obtain an L-1 visa. The government only grants these visas to:
Employees who work for a foreign company with a qualifying relationship with a company in the United States

Employees who have worked for the foreign company for a minimum of one of the last three years
You also must meet the application requirements. A Richmond L-1 visa lawyer will complete the application on your behalf, ensuring that the proper documentation is included.
Why Choose Fayad Law, P.C.
Covers All Aspects of Immigration Law – We help clients with citizenship and naturalization, appeals and bonds, asylum, and other aspects of immigration law.


Multilingual – We are fluent in English, Arabic, French, Russian, and Spanish, allowing us to provide legal services to immigrants from around the world. 


More than 20 Years of Experience – Our experienced legal team understands the immigration system, and we use our legal experience and insight when representing our clients. Our first-hand experience as immigrants also helps our clients navigate the complex immigration system. 


Personal Attention – As a boutique law firm, we limit our caseload to ensure we can provide personal attention to each client that we serve. 


Ethical and Sound Legal Counsel

– Nash Joseph Fayad has a reputation for providing ethical and sound legal counsel and was appointed to serve as Special Counsel to the Commonwealth of Virginia for all immigration matters. 
Ask A Question, Tell Us What Happened or Request a Free Consultation
 or fill out the short form below.
When you consult a Richmond L-1 visa lawyer, he or she will begin the process by determining the type of visa you need. L-1A visas are used for managers or executives who want to transfer to an affiliated company in the United States. Along with having the title, the manager or executive must demonstrate that he or she has the authority to make crucial decisions for the business. Without such authority, it will be challenging to get approved for an L-1 visa.
L-1B visas are for workers who have specialized knowledge. This knowledge must be geared toward the company's processes, management, products, and other related areas. It also must be critical for the company's success. Designers, programmers, accountants, and engineers are examples of employees often granted L-1B visas.
Companies often send numerous employees to the United States at once. Filling out individual applications for L-1 visas is time-consuming. Also, employees might get approved at various times, turning the transfer into a logistical nightmare. If you want to transfer multiple employees, you can apply for a blanket L visa. This visa will give your company pre-certification to transfer managers, executives, and employees with specialized knowledge. Applying for a blanket L visa expedites and streamlines the process. However, it can be complicated, so speak to a Richmond L-1 visa attorney first. Your attorney will evaluate your needs and handle the paperwork and documentation for you.
How Long Does An L-1 Visa Last?
Both L-1A and L-1B visas are initially granted for three years. If you have an L-1A visa, you can receive up to two extensions. Each one lasts for two years, so you can work in the United States for up to seven years. If you come to the U.S. under an L-1B visa, you can receive one extension, allowing you to stay in the country for five continuous years. Your Richmond L-1 visa attorney can help you with the initial application and the extension. Filling out the paperwork and providing the necessary documentation are necessary for approval, so hiring a lawyer is critical. 
Can You Bring Your Spouse And Children To The United States?
If you are granted an L-1 visa, your spouse and children under the age of 21 can travel and live in the United States with you. First, they must apply for and receive an L-2 visa. This visa will also allow them to work and attend school while in America. You can submit the L-2 visa application at the same time you apply for an L-1 visa. It can take up to a month to process the application, so a timely submission is necessary. Otherwise, your family might have to join you after you've already traveled to the United States. 
What Sets Fayad Law, P.C. Apart?
As a boutique law firm, we make sure that every single case we handle and client we represent receives our personal attention. We limit our caseload to ensure our clients feel truly supported at every moment, from start to finish. Your best interests will always be priority – and that is our driving priority. We know that any type of legal matter can be overwhelming. We approach every case with compassion and dedication from start to finish because we know how much may be at stake for you. We bring more than 20 years of combined legal experience to the table, which gives our clients the legal knowledge and insight needed to successfully navigate various legal processes.

Firsthand Experience
as Immigrants

English, Arabic, French,
Russian and Spanish

Proven Track
Record of Success

Personal, One-on-One
Attention​

You Stay Informed
at All Times
We Strive for Client
Satisfaction
Real Clients, Real Testimonials
Have questions about your rights? Ready to discuss your immigration case? Contact Fayad Law, P.C. now.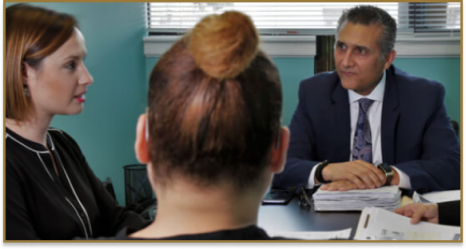 Sign up for the Fayad Law, P.C. Newsletter and get monthly news
straight to your inbox!